Hello! I'm Patrick. I've been thinking for awhile about building a full 4'x8' lowrider2. I figured if I'm going to do it, I might as well go big. The only thing is that I work out of a 2 car garage (that my wife would rather like to keep parking in) so I don't have space to dedicate to a table full time. So I designed a flip up version.
My full designed version is 57" x 112", so just under 5'x10', and folds up to just under 3' wide. It features a 4" thick torsion box top, and weighs roughly 500 lbs. You can see the finished table below: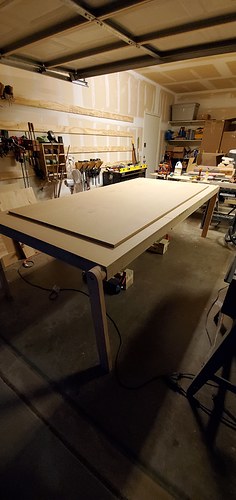 I've currently assemble the gantry. Next I need to assemble my dust boot, attach the router, and do all of the electronics.
One question I do have, are the end caps on the z rails (I think they're called the xz parts) supposed to fit flush with the Z rail? I think my rails aren't quite parallel, but I'm not sure how to actually adjust it to get them parallel and allow those parts to sit flush. Does it matter to much? The whole axis can move up and down quite easily by twisting the lead screw, so it can't be too out of square, but I'm worried it'll affect cut accuracy.
I'd like to upload more details, but as I'm a new user, I can only do one link and no files for the designs. I'll work on commenting more, so I can hopefully get it all uploaded.