So down the rabbithole I found a few things. The commercial product (with more complexity) of this: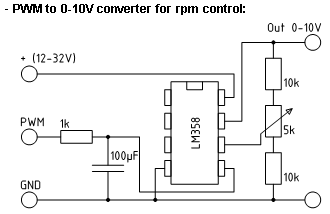 Seems to be this: https://www.ebay.ca/itm/Frequency-to-Voltage-Voltage-to-Frequency-Voltage-To-PWM-Converter-Module/352560404838
Be aware there are two products that look almost identical, the above one operates on 0-1kHz, but does not have an optoisolator on the PWM input. The one that operates on 100+ Hz does have an optoisolator but will require setting the softpwm almost to maximum and then having limited (1 to 8) options for speed.