First, this is an amazing upgrade. My parts for the burly have been sitting in a box for about a year and I dumped them all to redo them with the new 1" parts. Ryan, thank you for your continual work on this product/project.
I have run into a few issues with printing the new parts that I did not have with the first ones. This could be with the orientation of the parts on the plate, but I cannot see any other way than these could be positioned. The major item I am having is bed adhesion. With the parts having the recesses and slight fillet on the ends, without support material and a 4 mm brim at 0 mm from the part, I cannot get them to stick properly. I think that if this was flat like the originals there would be no issues. Without the supports, the finish of the bottom ressesses are just ok on my printer. Maybe time for a new printer.
I am using support material in all of the holes, when the parts are oriented on their ends, with the overhangs. S3D is recommending this in all situations.
Outside of tossing the printer in the trash, which it should be, this is working for me. I know that Ryan said you should not need the support material, it is just not what is working for me. Here is an image of the finish.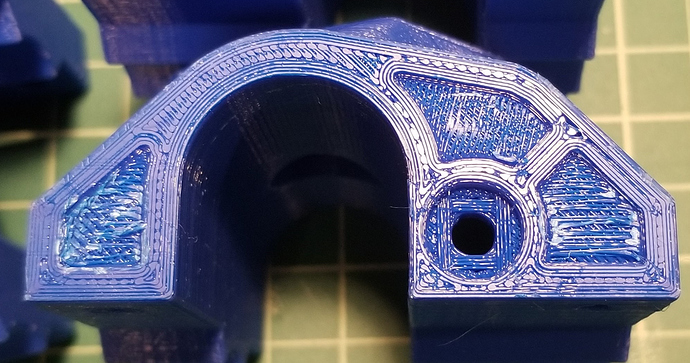 This in no way is a major issue, Ryan asked for some feedback if there has been any things come up.