Inspired by @mordiev's Core XY 3d printing machine, I've started another CoreXY machine build of my own. Like Aaryn, I have a fair stash of parts and a Prusa printer always at the ready so I determined to try to adapt his design to use parts I have on hand, as much as possible. Not having appropriate length commercial rails in my stash, I've adapted and printed these BB-bearing rails and used some of the zillion or so 608 bearings I have on hand for idlers. I also had a few shorter 2020 extrusions on hand and have elected to use them, primarily just for support. Here's the basic machine configuration so far…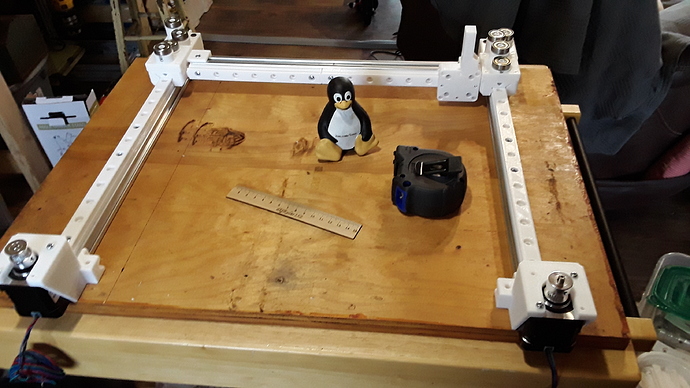 I'm making just a basic CoreXY machine – probably just another laser engraver – as I don't expect the printed rails would last too long in a 3dprinter. I'll probably add the lightweight BB-bearing Z-axis from my rolling-gantry MiniFoamRipper machine and mount one of the little Neje "6W" (~2.5W) laser modules I have. Right now, I'm working on getting all the idler bearings into alignment and adjusting the printed parts to match.
This is just a fun project (NOT a serious machine!) to keep me off the streets (and away from those infamous women who want to frolic…
) but I want to say thanks to Aaryn for the CAD design (his Onshape skills are way better than mine!) and the inspiration to get off my duff. Thanks, Aaryn!
– David