Another MPCNC Primo Dust Collector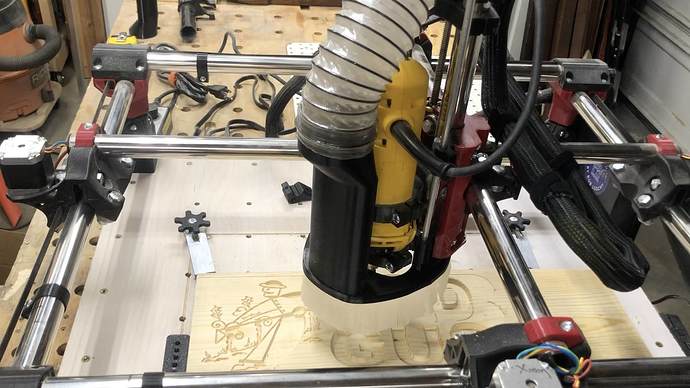 I am sharing my version of a dust collection attachment for the MPCNC Primo. I have tried several of the different designs offered and took a stab a designing my own (or course using input from, previously published designs). This was designed for use with the DEWALT DW660 tool. If you are using another router, the base and brush bracket might need to be modified to ensure clearance.
The key advantages for me are:
Assembly is mounted to the core. I have had little success with designs that attach to the
Z-axis frame and move up and down with the router.
Larger vacuum tube that works better for my dust collection. Also it pulls through larger
shavings that can get caught in the smaller tube designs. This is designed to fit a 2.5"
vacuum hose.
The shape of the tube minimizes the amount of adjustment to the X and Y zero switches
for install.
The vacuum tube can be easily lifted off and used to vacuum around the workpiece
manually.
The brush is printed in Sain Smart TPU and sized to push into the groove in the base.
No glue required. Also the length of the bristles can be easily adjusted in the slicer using
scaling.
The brush bracket attaches to the base with 8 x 3 mm magnets for easy install and
removal.
The STL files and instructions to print and assemble are on THINGIVERSE item number 4976444.
Note
I can email the CAD files which were created in Fusion 360 if you want to make
adjustments. Be aware that since this was an interactive design the files are pretty
messy.
If I have stepped on anyones toes with this design, just let me know and I will add you to
credits.