Built a MPCNC over last Christmas break and been lurking ever since, but finally joining the forum hoping somebody out there might share some their experience with getting a nice finish on a relief carving.
I'm using Estlcam to create the gcode from an stl with most the settings cranked up to get high detail. Using a 6mm end mill for roughing out to 1mm stock allowance and a tapered carving bit with a R0.25 ball end for the finishing pass. This carving is in western red cedar.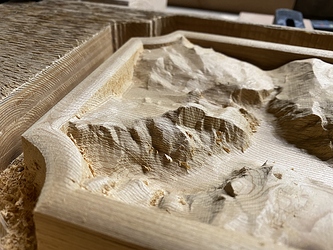 Generally I'm happy with the result, but I'm getting fuzzy things in some areas that don't break off with the plastic gun cleaning brush. Is it better to do the finishing pass with or against the grain or maybe both? Is there a better tool for detail clean up?
Thanks,
Ben