I recently upgraded my home office desk with a lift kit from Uplift Desk. The kit was very well designed and took almost no work to adapt to my desk top.
The desktop I'm using is 3 2x10's that I jointed and glued together.
I'm still getting used to remembering to 'stand up' from time to time. I've only had it a week. I did really good the first few days, but not so much yesterday. I was in a lot more meetings and just never stood up.
I had looked at the cheaper leg alternatives, but none of them supported the length of my desk. I ended up splurging on the uplift brand to meet my needs.
Most of the time converting the desk over was spent on cable management. Having a desk that can go up and down means that you need to have all the cables tied up nicely so they don't snag on anything.
It's hard to tell in this picture, but I use a TRIPP-Lite brand 19" rack mount power strip mounted on a 1-U wall mount for my power in the middle of the desk. This makes it easier to keep all the power cables/cords tucked into two of the plastic cable trays.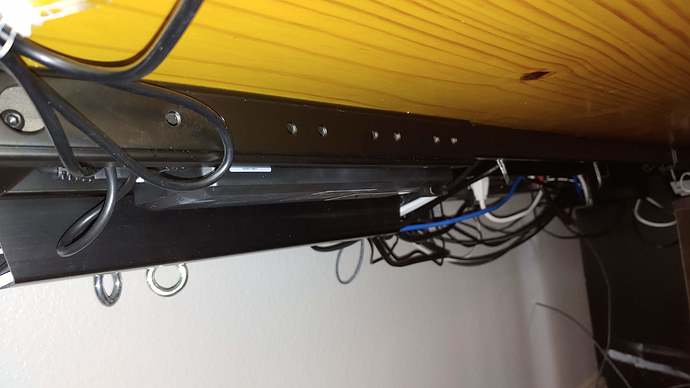 And the full-desk shot.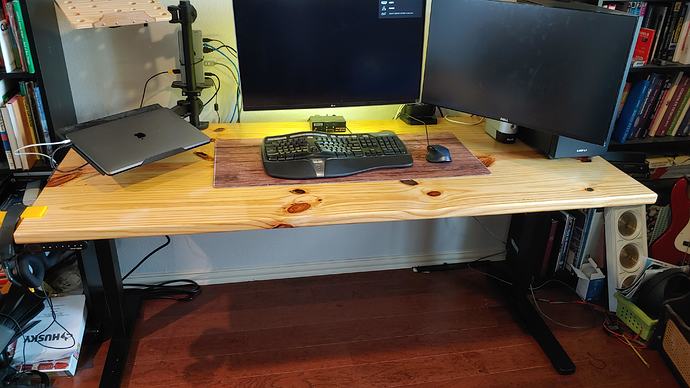 One thing I learned very quickly the first day is that I need to either wear shoes, or I took one of the anti-fatigue mats out of the kitchen to stand on.