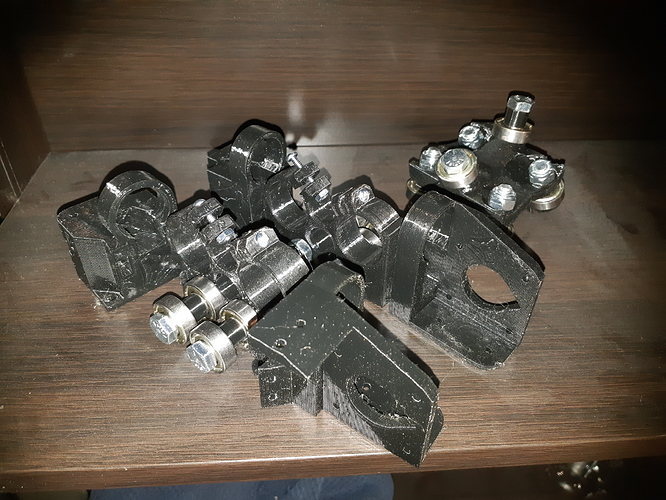 It started with a pile of leftover 3d printer and MPCNC parts, plus some leftover bits from a "Magnetic Discovery Kit" and me thinking "I can build that from that glass top table.
Ok. Well the pulleys didn't work. The glass top table doesn't really have a place to attach the printed pieces, or a lower layer for the sand. It will need a redesign from the bottom up anyway, I think. I'd re-use the glass, but it's a nice table…
But I have steel. I printed the parts, and bolted the bearings to them. I didn't have spacers, but they're ridiculously easy to print, so I did.
Pulleys on the way from Amazon. Much easier to find for 6mm belts. Nema 17 motors from a box. Torque? Current? Dunno. Not even 100% sure they're 200 steps/revolution. Probably.
Arduino Mega.2560 and RAMPS 1.4 with 4988 drivers from my very first I3 clone. (Which, for the record, was so crappy I am sometimes amazed it didn't sour me on 3D printing forever.)
My concern so far is noise. Those 4988s are noisy at the best of times, and the bearings on steel aren't super quiet either.
I will look for suitable glass. I think I have a piece.of tabletop glass from the "as-is" section of IKEA that I can use, about 13" by 16" which I can center in a 22" square LACK Ikea table. There should then be room for the RAMPS board and a power supply in the table,.or at least a 12VDC jack. Maybe a v1pi to run it.