Hello good people of the forum,
I'm currently building my lowrider 2 (build here), and have looked into my electronic box for components to use in my build. The parts are mainly from a dissassembled Anet A8 printer and a yet to be finished Hypercube printer (which have been work-in-progress the last 4 years…).
Do you think any of these components can be used?
PSU:
12v, 20A (S-240-12). From Anet A8
Display:
LCD 2004. From Anet A8
LCD 12864
Board:
BBT SKR mini 2.0 (5x TMC2209, 32 bit)
BBT SKR mini 1.2 (4x TMC2209, 32 bit)
Creality V 1.1.4. (16 bit) From Ender 3 pro
MEGA2560 + Ramps 1.4 + 5xDRV8825 (16 bit)
Anet A1284 (16 bit). From Anet A8 (maybe defect)
Nema 17 stepper motor:
5x Anet 42SHDC3025-24B (0,9A, 0,4Nm) . From Anet A8
5X 17HS 4401 (1.7A, 0,42 Nm)
End stop:
9x optical
3x mechanical. From Anet A8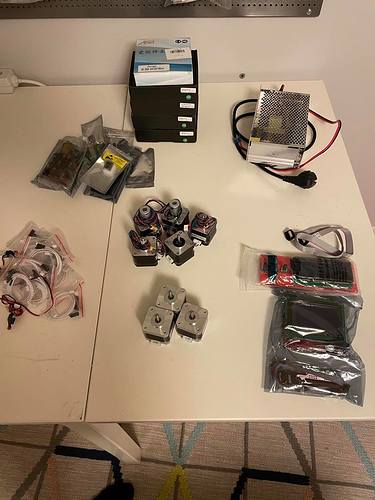 Is it possible/recommended to use the SKR mini 2.0, of the the displays, one of the stepper motor packs, some of the end stops and maybe the PSU?
I'm not great at firmware and would be mighty grateful if someone could help me with the firmeware.