Well, look what I found. I was looking for some cool designs and this was in there.
I we weren't in the middle of a global pandemic, I'd suggest this was an indication that a fact-finding travel junket was in order.
We just need to take some of the sailboats people have been talking about instead of a stuffy airplane…
Well, from central Wisconsin I'll need to choose between going down the Mississippi or out through the Great Lakes and the St. Lawrence seaway, then around to the Panama Canal (assuming I don't want to round Cape Horn or Cape Froward) before starting the mostly westward legs of my personal journey.
Oh yeah, and buy or build a sailboat.
Those of you on the U.S. West Coast should probably start without me. Aussies, Europeans, Africans, South Americans, and Asians are free to chart their own courses.
Well the solution is obvious. Let's start building planes! What could possibly go wrong?
I'm hoping I didn't inadvertantly offend any Antarctic MPCNC/LowRider owners by leaving that continent off the list.
They're surprisingly easy to build. Just a bit more difficult to test
I'm in. How much dollar-tree foam board do I need to get?
Well, that's obviously going to be predicated on your final designed size. For the trip we're talking about I wouldn't want to go with a yacht smaller than, say, 40'. Remember also that the design won't just have the hull, you will want to also put in a helm and cabin…
I bet I can make this into a wooden nickel. Padauk in pine (or whatever this 2x4 is).
At first i thought it was a bit small but now that I'm visualizing a comfortable circle around it, I think it's perfect.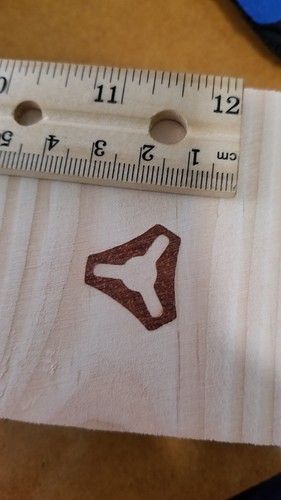 Not sure I have the guts to inlay both sides of a somewhat thin piece, so the back will probably be drawn with a pen.
Why not cut all the way through for both pieces? (and the circle of course!)
I'd love to see that!
Sorry - I was saying foamboard for building the plane. Did the "build your own boat from scratch" thing back when I lived in Kansas.
I wonder how many panels it would take to pull our 40'er to Hawaii?
Because, obviously, if you are in Kansas you need a boat…
That's it. That's the one. You win the thread.
At one point while living in Lawrence, Kansas I owned 2 different Hunter 25's. One in Baltimore, Maryland and the other on San Diego, California. There's a nice Corps of Engineers lake in Lawrence but I never managed to get either of those boats moved.
Built a Bolger Gypsy in my garage instead, and ended up moving it to my parents' lake house in Wisconsin.
Our Yankee 24 is in Montana on Flathead Lake, so not quite as problematic of a commute than Kansas to either ocean.