Hello everybody!
I need your help fighiting a strange z-axis behavior on my MPCNC converted to an Embroidery machine.
I just get the Z-axis motor and mounted it on an old sewing machine. I designed and 3d printed a hoop which is mounted on the former MPCNC Z-axis (which is currently without a step motor and just holds the hoop). Here is how my setup looks like: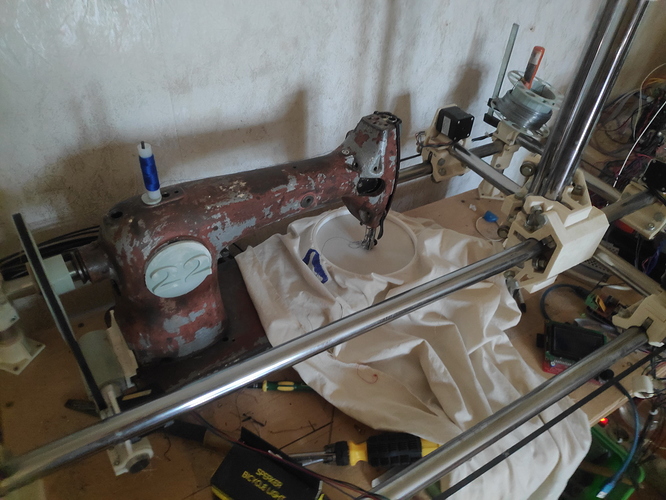 I set Z-axis steps per mm to 8960 (DEFAULT_AXIS_STEPS_PER_UNIT) which gives me full rotation in 5mm. And I set Z-axis max speed to 3.0 (DEFAULT_MAX_FEEDRATE). All the configuration is made in the firmware Marlin-MPCNC_Ramps_T8_16T_LCD_32step which I uploaded to the machine.
I was pretty happy with my embroidery machine and here result I got from it: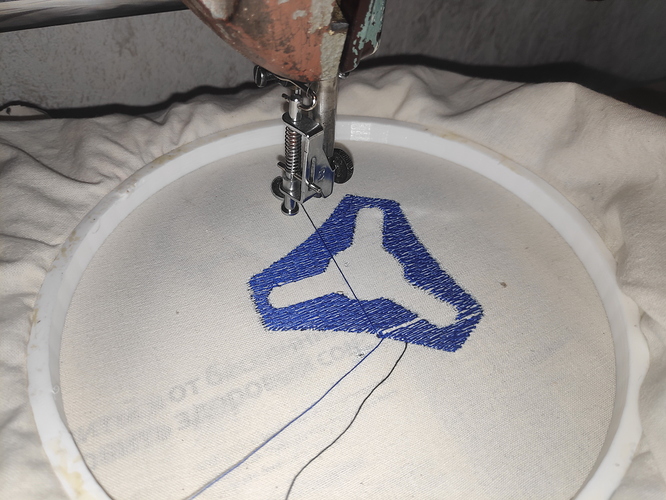 But the second time I ran embroidery, I heard terrible noise from the Z-axis motor. Here is the video:
https://youtu.be/hkFr5mrA-6Q
When I try to move Z-axis manually – everything is fine. I set Z=10 via LCD Menu and get 2 full rotation of the wheel. But when I run g-code Z-axis doesn't move (X and Y are ok) and instead of the move I hear that noise.
My g-code doesn't contains only G0 commands. Here is the first lines:
G0 X0.0 Y0.0
G0 X-49.254 Y-8.824
G0 Z5.0
G0 X-48.808 Y-8.820
G0 Z10.0
G0 X-48.362 Y-8.815
G0 Z15.0
G0 X-48.808 Y-8.820
G0 Z20.0
G0 X-49.254 Y-8.824
G0 Z25.0
G0 X-48.362 Y-8.815
G0 Z30.0
G0 X-49.842 Y-7.918
G0 Z35.0
G0 X-49.945 Y-8.619
G0 Z40.0
G0 X-48.870 Y-8.938
G0 Z45.0
G0 X-50.329 Y-8.505
G0 Z50.0
Could anyone suggest what could be wrong with my machine?