I bought a gorgeous piece of walnut, and figured that I'd get started on those Christmas gifts… but first a test.
Pass 1 is a big pocket with my 1" surfacing bit. The walnut is a little rough, so it needs a shave.
Pass 2 is the outline of the cribbage game with an engraving bit.
Pass 3 is 170 drills, 10.5mm deep. Wow, does that ever take a long time. Since my test piece is a pine 1X6, I ran it at 200% speed, and it was still hours.
I tried using a 1/8" drill bit for drilling, but of course the CAM thinks it's an endmill. I'm going to see if I can reasonably define a drill bit, instead of many passes per hole, do each in one shot. I can turn the router down to a reasonable speed for the bit, I should be able to shave a couple hours off the process.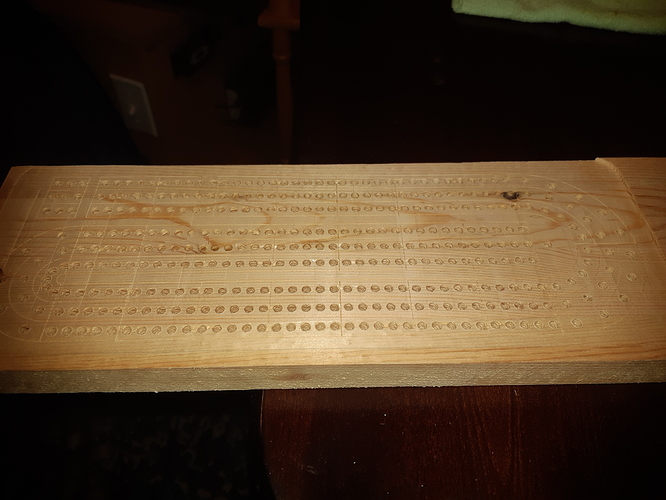 I have a file to cut 2 pieces from the back side, this is the front. The cut from the rear will cut the board out, leaving room to carve this into the front. It will make a 2 piece board, hinged on one end, and hold 2 decks of cards and pegs for the game. A catch will keep it closed.