Been keeping my eyes peeled for opportunities to do some custom work for people, and someone posted a couple days ago in a local FB group that they needed something burned with a laser. So I fired off a message.
I was close to him, and could do the work right away, so we worked out a deal, and he dropped off the material a couple days ago. Big whoops on my part… I thought he wanted a 6" x 8" piece of barn wood burned. Simple enough… Turned out it was a 6" x 8" x 66" piece of wood! Fricking beast!
So… Had him drop off a couple of other samples so I could play with the burn parameters, and off I went to Metal Supermarket for some new legs. Here's the before pic: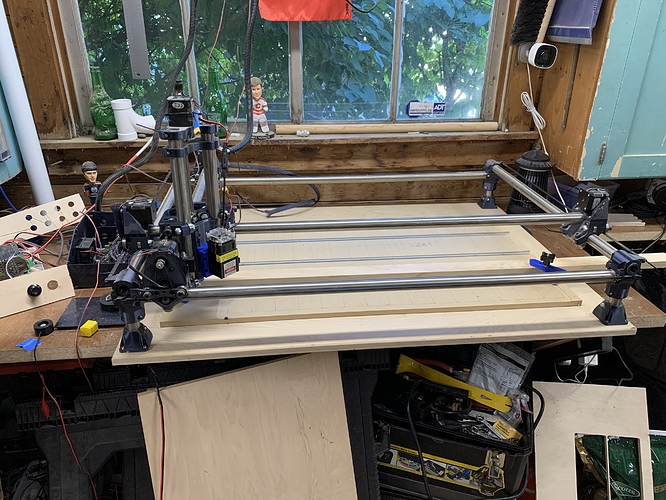 Nice normal MPCNC, right?
Here's the stretch version, with 9" legs instead of 3":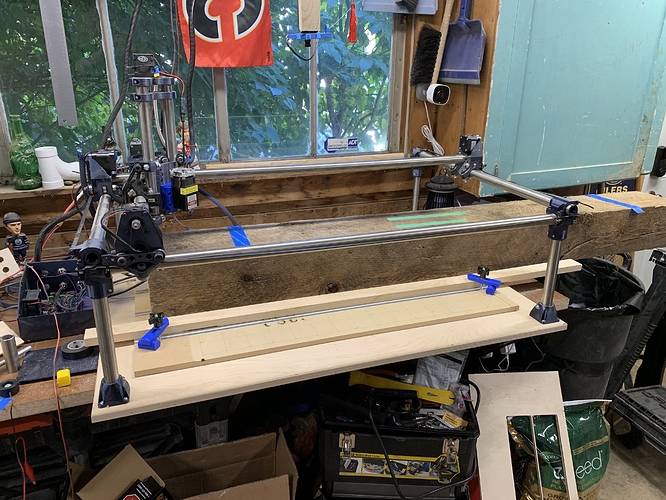 So far, so good. Playing with Lightburn, and registration marks. Think I've got a grasp on what needs to happen, but we'll see. Famous last words. Wedding is on Saturday.
So he needs it by tomorrow. I'll follow up with another pic when it's done.
After this, someone else replied to my post on the FB post, and they were looking for someone who can help them out with some laser work. Another wedding (in 2 weeks this time), and he made a bunch of BBQ scrapers for the bridal party, and needed them engraved with the initials and wedding party position for each member. So they're stacked up on my workbench, waiting for my machine to shrink back to normal size.
C