I have searched this and found a few related posts but no clear answers. I guess all I am asking for is a sanity check. So far I have not been happy with the results and I want to make sure I have the bit entered correctly.
I have a Tapered Ball Nose End Mill 1/4" Shank with 1.5mm Ball Radius 4.82° Tapered bit I picked up from Amazon. I am using the bit for finish pass 3D cutting of an STL file. (Also fyi, I am using Estlcam 11.117 as CAM and controller, but I see there is a newer version out.)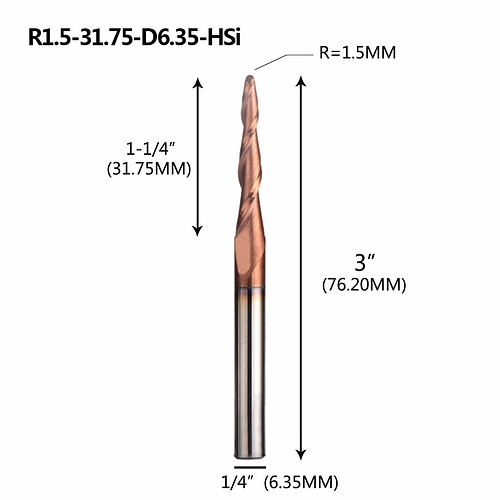 I get that I am supposed to enter 180° for the tip angle on ball nose bits. So, I entered the full shank size as the bit diameter, and the tip radius as tip radius. There is no place where I enter the bits taper–is that ignored? Is the shank=diameter correct? Or should I use the ball size as the diameter?
I see that I halved the tip radius in my tool list, which is part of my problem. Still, I would appreciate confirmation on the diameter question and reassurance that there is no need to enter the bit taper.