So I'm trying to teach myself Fusion 360 off of Youtube and simultaneously learn how to operate a brand new CNC at the same time.
The very first ever cut! (yes I know I'm suppose to start with foam but I yolo'd it)
The lead in to the first cut is borked. I'm trying to figure out what I did wrong there. I'm using the guffy's marlin 2.0 post processor without changing anything. I set X and Y to where I want, and then let the machine home Z with the probe.
I'm mostly using instructions from this guy's youtube
Code below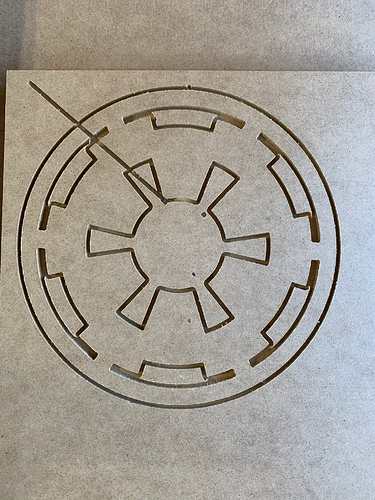 M0 Attach ZProbe
G28 Z
G92 Z0.8
G0 Z40 F300
M400
M0 Detach ZProbe
; *** START end ***
; *** SECTION begin ***
;2D Contour2 - Milling - Tool: 1 - flat end mill
; X Min: 12.113 - X Max: 193.088
; Y Min: 12.358 - Y Max: 192.842
; Z Min: -4.175 - Z Max: 15
; COMMAND_START_SPINDLE
; COMMAND_SPINDLE_CLOCKWISE
M0 Turn ON 5000RPM
; COMMAND_COOLANT_ON
M117 2D Contour2
; MOVEMENT_CUTTING
G1 X74.878 Y93.39 Z15 F1000
G1 Z5
; MOVEMENT_PLUNGE
G1 Z1 F333
G1 Z-3.858
; MOVEMENT_LEAD_IN
G1 X74.874 Y93.389 Z-3.907 F1000
G1 X74.863 Y93.385 Z-3.956
G1 X74.845 Y93.379 Z-4.002
G1 X74.821 Y93.371 Z-4.044
G1 X74.79 Y93.36 Z-4.082
G1 X74.754 Y93.348 Z-4.114
G1 X74.714 Y93.334 Z-4.14
G1 X74.671 Y93.319 Z-4.159