I'm still making/collecting parts for dust collection so it's just manual at the moment.
In progress shots. About 4.5hrs in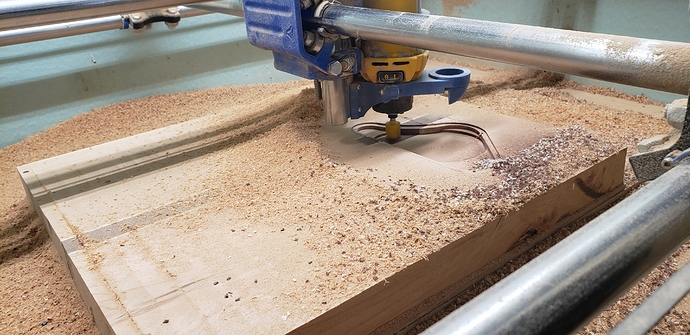 Nothing wrong with a little TLC dust collection. That looks great.
Did you try it on foam first? A friend of mine plays guitar and this project is on the plan maybe a year or so out… I got to learn a lot before.
Beautiful - future dream project. I hope to see more updates as this project of yours comes along.
Since I originally designed this for 3d printing (I'm also doing one of those) I had fillets and chamfers everywhere. 48hr estimated tool path on the one its cutting now.
I went back and simplified it, its dow. To 10hrs total now.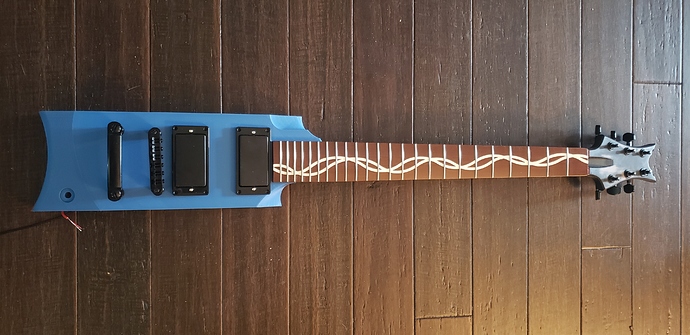 nice, didn't you have any z wobble problems? I'm having a lot
Not that I can tell, what I do have is my z isnt parallel to the cutting surface yet.
Same here . It's definitely on the list for my Lowrider.
Kurt, that's a sweet design. I can't wait to see how it turns out. What is the wood species you have glued up?
I hope to make a few of them. This is actually a test of 2. In case the 1st ine didnt work, the one I'm keeping is next.
The photos at the top are of the 2nd one, I'm cutting the test in the later photos.
1: bakote, spalted white oak, walnut, maple, cherry
2: walnut, spalted white oak, cherry.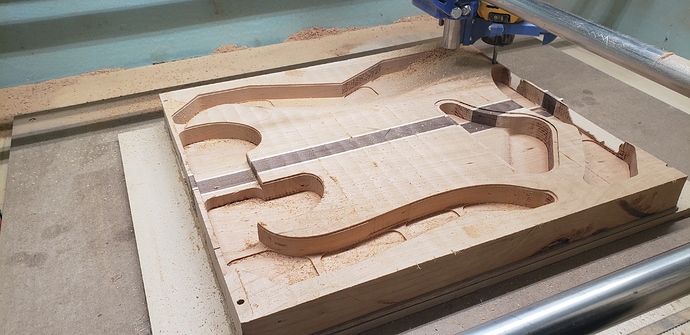 Had a mishap this morning and lost my center. Think I got it back on track. This 3 flute I picked up is doing some work on this hard cherry.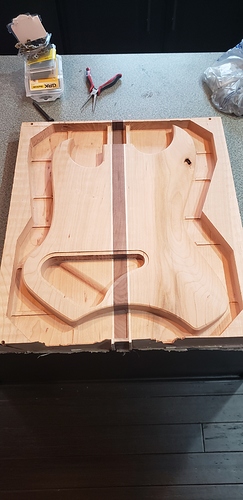 Back is done. The "belly cut" I think ended up a little too aggressive in the model so I lowered it for the next one. Time to flip and keep going
So at first I thought it wasnt cutting in the right spot because the pickup pockets weren't centered. Turns out I glued the top off center. Maybe someone will still like it when it's done. Lol
I should also note that the toolpaths were horribly inefficient and wasteful. I have since fixed that issue. The next one just cuts a 2d contour around the guitar instead of adaptive clearing
Still learning.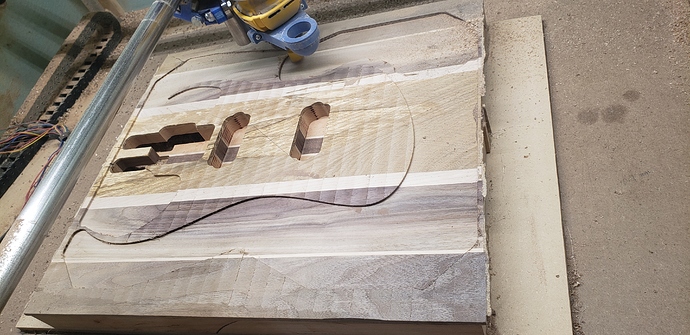 Dooooood! This thing is awesome. Let us know what total cut time is.
Twice what it should be. It took about 15hrs to cut the back.
2.5mm steps/600mm/min seemed the best I could get on the 3/4 bit
I redid part of the model and tool paths and got it down to around 10 in the simulation
I Will NOT show this to my co-worker!!!
Otherwise I will be on the hook to cut couple of then for him…
Full disclosure!! I don't know anything about Guitars… With that said, he asked me if I could reverse engineer couple parts for one of his Guitars and 3D print one…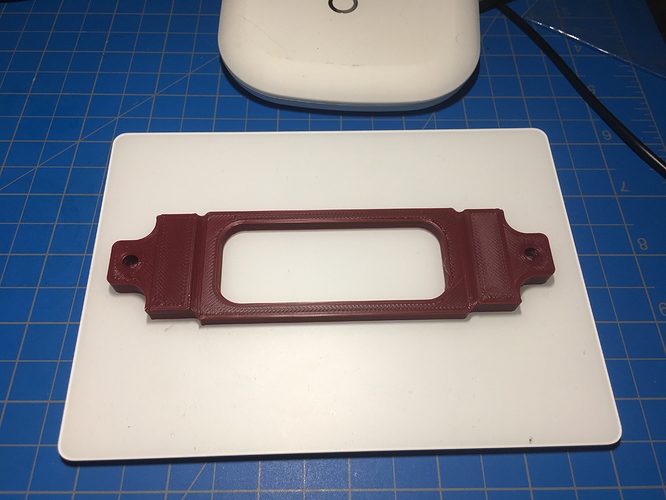 And he also asked me to cut a new "pickguard" that I'm still reversing engineering for him…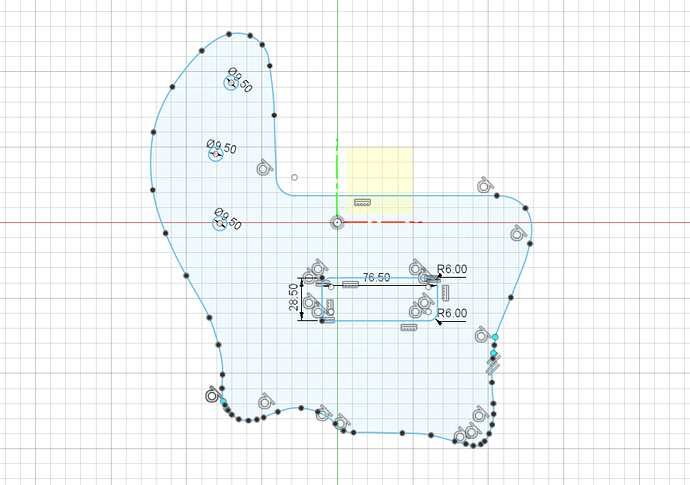 Don't take this personal… but you are a bad influence …
if he see your post I'll be F@#$%…
Great Job though!!! looks awesome!!!
Thank you for sharing!! or Not!!
Gustavo
Excellent effort, love the body contours. How are you getting that? how are you designing that chamfer or are you doing that manually after the body is shaped?
I used parallel with a ball mill. I did sand some of the lines off before the pic with some 80 grit
I learned a good bit on this thing. Went back and changed the model because the neck wasnt in line with the centerline of the guitar.
Well, unfortunately this has ended up just wall art. Had a massive shift in the 2 sided machining, I suspect it is due to the gantry coming off square.
I will just say this was a learning experience and do better next time. I'm going to take the gantry off, square it up again, install the dual end stop kit, and try again. I have 1 more blank I've prepared for the next one.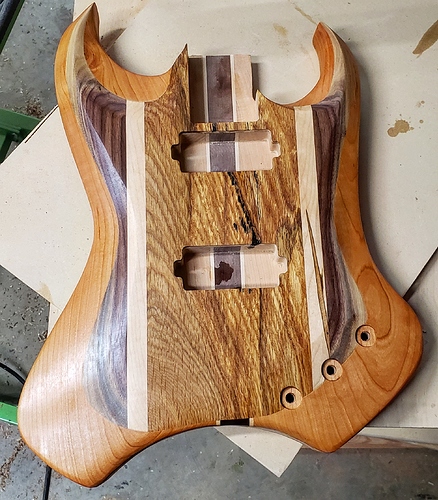 At least it looks neat.
Damn straight! That wood selection is amazing and the shape is really cool too.
I'm looking forward to cutting a guitar body but my CAM skills aren't quite up to that big of a project…yet. Thanks for sharing.