All,
OK, at Paul's request I'm starting this thread. Just to elaborate from my other "Build" thread:
I've been an active pilot for 35 years and a Flight Instructor for 27 of those years. I was also a Designated Pilot examiner for 4 years, now retired. I have 6250 hours in airplanes, 5170 of that is dual instruction given (in 47 different airplane types). For the gliders I have 835 total hours with 314 of instruction given, in 27 different glider models.
So, here again is my current glider panel: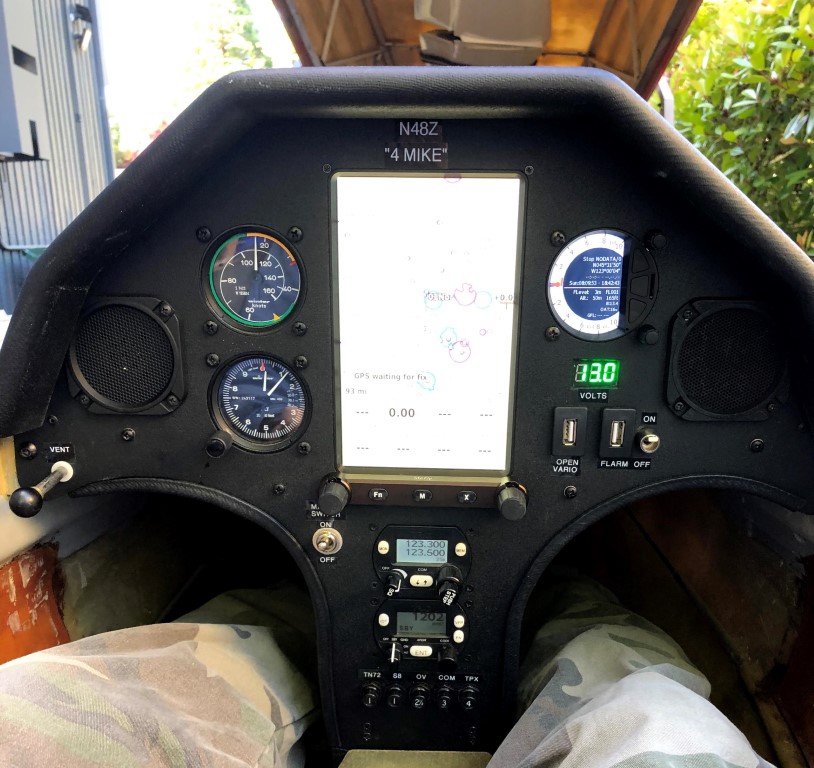 It is installed in a Schempp-Hirth Mini Nimbus, 15M span, fiberglass glider, manufactured in 1979. I have owned it for 4 years and have done a bunch of upgrades, including the panel.
The panel is made of a multi-layer fiberglass panel that I layed up on plate glass using vacuum bagging to get a high glass-to-resin ratio. The panel was then cut on a CNC machine and has been modified by hand several time since. This is the current incarnation.
On each far side of the panel is an audio speaker: one for the radio and one for an audio Variometer (sensitive vertical speed indicator). On the left side of the large display are the standard Airspeed indicator and Altimeter, in 57mm size holes. On the right of the display is a digital air data computer with a graphic screen (brand LXNav, S8) that displays various pages of data, including the Variometer data. It is also the source for the audio Variometer output.
Below the large display are two radio instruments: the top one is a radio communications transceiver and the lower is a Transponder with ADS-B positional data transmission (traffic awareness output).
Behind the panel are various electronic black boxes to support the radios and displays. One is called FLARM, which is a specialized system for glider traffic collision avoidance. It also has input for the ADS-B from airplanes in the vicinity. That data is displayed on both the S8 and the large display.
Various switches, USB IO ports, and circuit breakers fill in the corners.
Now, about the BIG display: it is an OpenVario Flight computer system with a Linux OS running a open-source soaring navigation program called XCSoar.
It's all open source from the hardware up to the main display program. I built the hardware from a kit and have interfaced all the various bits together with help from the OpenVario community.
Alright, that's probably more than enough for a first posting
What else do you want to know?
Mike