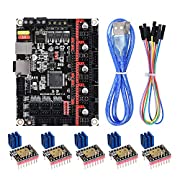 BIQU DIRECT SKR V1.3 32bit Control Board Smoothieboard & Marlin Open
I have this board with the tmc2208 and I also have a set of tmc2209.
I like to use this board with a LR3 with a tft 35 touch screen also from bigtreetech.
I,m a hardware guy not a programmer!
My question is:
What firmware to use?

Does the fw. needs any tweaking to work with above combo?

If so, how to, as simple as possible? Maybe a step-by-step tutorial?

Any other tips n tricks with this combo?

What tmc to use 08 or 09?
Very much appreciate your inputs on this topic!
Regards
"Measure twice, cut once"