Customer is building a replica of the '79 LTD Wagon from National Lampoons Vacation. I've printed multiple pieces for him but he was getting jerked around by a few of the local CNC shops on a couple of aluminum pieces he needed cut (like the hood ornament in the pics) so I figured I'd give it a shot. If you don't follow me on Insta or Facebook, here's the run-down:
This is 1/4 inch 6061 Aluminum; Makita RT0701C spindle; 1/8th inch single flute flat end (from the V1 shop); I'll call it "air cooling" but really all I used was my shop vac with a 1" reducer held about an inch from the mill to suck the chips away during the cuts - that keeps the chips from building up in the cuts and also pulls air across the end mill to help with cooling. More details about machine settings below the pics…
I'm still using Estlcam as it hasn't failed me yet. It has it's quirks but what can I say - It's cheap and capable so it kinda matches the MPCNC imho. Spindle was set to roughly 60% speed (probably about 16-18000 RPM if the dial markings on the Makita indicate linear speed increases - honestly don't know). I generally go by feel and sound when it comes to spindle speed - if I'm getting funky resonance I adjust up or down until things smooth out. Here's a SS of the tool settings: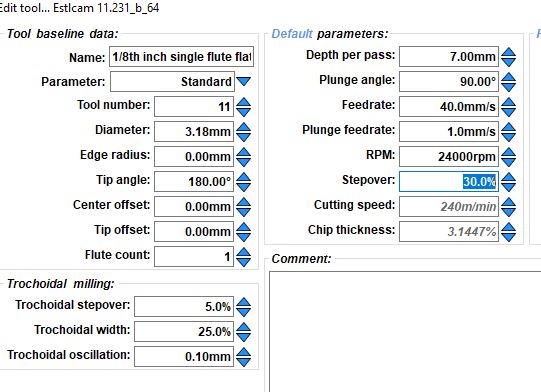 This was cut single-pass using trochoidal milling.
I created a drilling template to make holes for lead-ins and hold down screws, then printed that on my 3d printer, then over-layed that on top of my material and marked the holes first with sharpie, then with a punch to give my drill press a center point for the holes then drilled those out. This keeps the flat end mill from having to plunge. As you can see, I cut it kind of close on one of those hold-down screws - it was a bit of a nail biter for a minute there.
Cheers guys - great seeing some of the fantastic work you're all doing. Really good stuff!