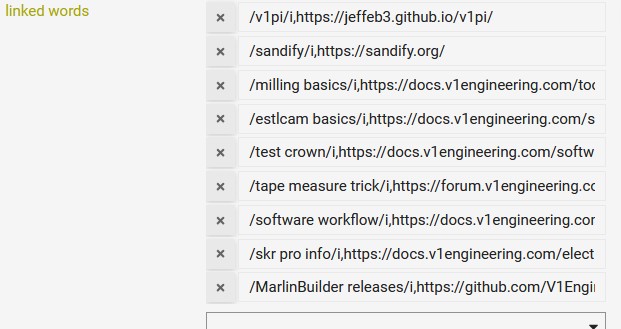 Hmmm… Need to bump up the "Darryl, the Initiation Goat" link count…
And here I thought there would be spicy sausage.
To be clear, these are the settings that do this:
v1pi
sandify
milling basics
estlcam basics
test crown
tape measure trick
software workflow
skr pro info
MarlinBuilder releases
If you have more ideas, especially doc pages that we reference frequently, then Ryan can add them. It's nice to have the term be not too common, so we don't link to marlin builder firmware when we are talking about catching that big Marlin.
Now I am hungry, hot link and sauerkraut, too much mustard.
MMMM, damn, me too. Gotta find a way to sneak that Volkswagen currywurst over here…
MPCNC Daryl doesn't work for me. It just points to the MPCNC Primo
You wish buddy…and almost got it.
No goat! WTF!
Waitaminute, what if you could invoke Darryl like discobot? Instead of a delicious cevapi hot link, it's actually a bot you could summon.