First, I want to leave a small disclaimer. Ryan has designed some amazing machines. I highly recommend you start by building them as intended. You can always modify to your particular needs once you have more experience with the machine.
A couple months ago, I introduced my new Primo build and mentioned that I was thinking about downsizing my old LowRider2 build to gain back some garage space. It was getting cramped, in large part because earlier this year I caved and added a bulky Chinese laser. But then I thought to myself, "This sounds too easy, I'm sure I can make this harder than it needs to be." — or something like that
.
Instead of downsizing the work area to 24"x48", I ended up making it a full 14" longer than the original for a total of 35"x64" usable space. This was achieved by extending the Y rails past either end of the machine to account for unusable space at either end. I have also converted to a new V-rail system (using 1/2" aluminum angle) which ensures Y-axis integrity without slippage. And, I'm using a new drag chain to remove overhead power delivery, and gain access back to my second garage door — a major consideration in this build. I can easily unhook the vacuum hose from the ceiling when I need to open the door.
Electronics have been upgraded to the Rambo 1.4 for dual endstops (thank you @jeffeb3 for the help!) + Z-probe (tiny touch plate) and a MeanWell 24V power supply. I'm also now running my high-torque 92oz steppers at a toasty 1250mA, which required the addition of heatsinks and cooling to the stepper drivers (I can easily set them to 1500mA, but am trying to keep the temps on the cool side). I will probably make a custom top for the case at some point, but for now, I just milled out the fan recess on my Primo — despite some melting around the edges, it's entirely passable. And I'm still running the Iot relay for spindle power control.
But now for the fun stuff, the table top rises a full 30 inches!!! — with the help of four linear actuators and drawer slides — to allow access to the laser cutter below. I still have a little tweaking to do with speed control on the linear actuators due to slight variances, but it's largely irrelevant as the machine always returns to the exact same point when at rest.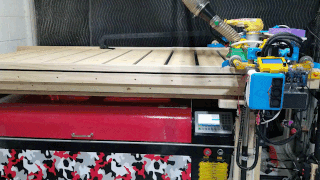 As you probably already noticed, I went with a new t-track spoilboard as well. Final surfacing and grid complete, she's ready for action!
Overall, I'm really happy with how things turned out and I'm loving the reclaimed garage space. Also, now that I can open both garage doors again, I can really go to town with the leaf blower when I want to purge dust from the shop
.
Hope you find this interesting. Thanks and good luck with your builds!