I've not had much time recently, but I'd been meaning to have a go at a 3d relief map. Someone posted a brilliant site (terrain2stl) which makes the whole process so easy. After a couple of false starts (crap wood, then wood that wasn't level), it worked. I only used a single tool (2mm ballnose), because I didn't have time to go back out and do a tool change (I can see the shed from my office though). Estlcam, a total of about 3 hours.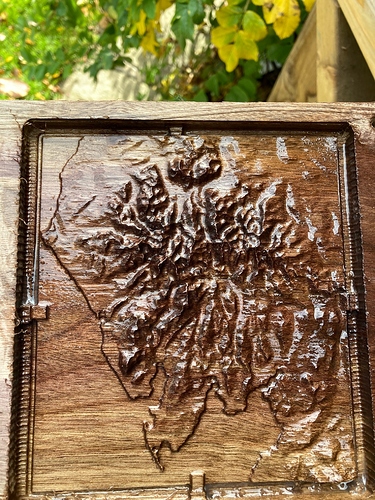 I spent an hour or so a few weeks ago methodically checking every nut, bolt, piece, bearing and clamp was tight, and I feel it's paid dividends. Honestly, this machine is still surprising me.
As for the piece, it's the Lake District in NW England. Not sure what to do with it really, but I'll think of something. Some walnut from my wood guy, lovely stuff and not that expensive really. Everything is better in walnut.