I've mentioned fragments of this process in other threads but here it is in one place.
With some help, I decided on black and pink, and I used a scheme similar to Ryan's except that I want the corner tops to be pink instead of black, and I made the feet pink to try to fit everything within 2 spools. With 4 perimeters and 0.3mm layer height I sliced each part individually to get an estimate of time and material: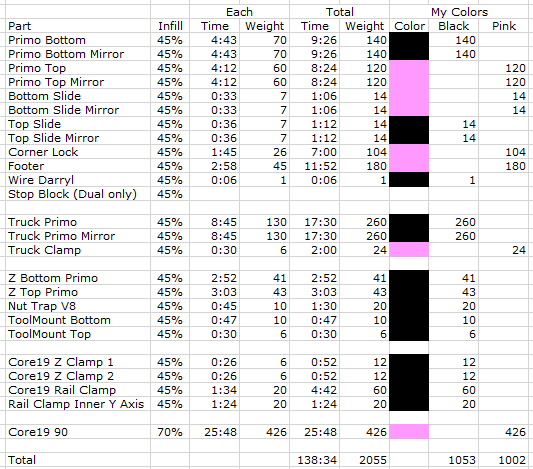 I've also been weighing some of the parts and the actual weight is quite close to what the slicer predicts.
This is the steel tube that I bought. I think HTR/1120 is hot rolled and I like the thick wall.

Then it is time to disassemble my smaller box frame machine which was assembled here.
Upgrade kit arrived in record time.
Recovered the hardware from the older machine.
Got new tubes.
I've got all the large pieces printed and just a few more small ones to go.
More to come…