Just a refresher, I have this for a CNC:
Low Rider version 1.
Grbl_Esp32 MPCNC controller.
3'x4' work space, with a vertical clamping area.
DeWalt DW611 with a short cord.
I bought a Neje A40640 40W (input) laser diode in December. I made it my goal to work on the laser today.
Previously, I had a 2.5W laser, but I never made it very far on the progress bar.
Previously, I had designed a mount. I am using David's air assist mount (but my air pump is puny, I hope it is enough).
Here's what I did today:
Made a wiring harness for the laser. I don't have these tiny JST connectors, so I cut one of the provided cables in half and crimped on a new end. I made a long (5' or so) extension. I use 24V as my main PSU, and I think I would feel better with a separate PSU anyway, so I needed to connect that cable to 12V and ground on the PSU, and PWM and ground on the controller.
Tested my firmware. This took the longest. I completely got turned around from reading the docs. The first thing I missed is that there is an interconnect that needs to be jumpered to enable the PWM at all. The laser mode in grbl also has some unintuitive behavior. For example, M3 S20 doesn't turn it on immediately, but adding a G1 X10 F1000 does (that makes sense). But then the laser stays on until you send G0 or M5. That probably isn't a problem when playing a gcode file, but it confused me.
I would like to introduce my fakser (fake laser). It is an LED (white) with an inline resistor and some Dupont cables crimped to the end. I used this today to debug WTF was going on and I will leave it in the CNC drawer for future use.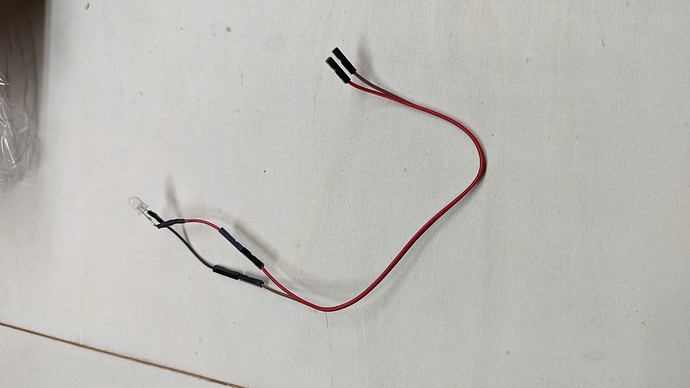 At the end of that, I have a scorch mark in some scrap plywood: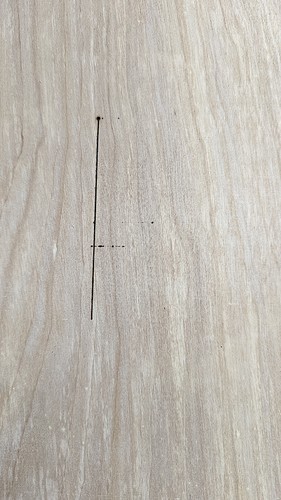 I am already impressed and terrified by this thing. That was 40% power and 1000mm/min, with random focus.
What are my next steps? Run the focus gcode script to get a good Z. Then install light burn and cut some shapes? I need to find some dinosaur shapes. I need more dinosaurs in scrap wood.