First time posting here, and just wanted to thank everyone for sharing their build experiences and knowledge. I learned a ton here!
Here's by build. I started with an old table base that had been sitting in my basement for about 15 years. Steel, welded 2" square tubing. I also had a 3D printer I wasn't using much - a Velleman K8200 - that I "repurposed." The table is using the Velleman board (Marlin) and a Raspberry Pi zero with OctoPrint for a wireless connection. Table dimensions are 48" x 28" and the "drawing" area is 990mm x 495mm.
The belt is polyurethane steel corded and the pulleys are T5. Even with all touch points using standard 608 bearings, it takes quite a bit of torque to push things around. I think a rubber glass corded belt and GT2 2mm pitch pulleys will help this a bit, and hopefully allow it to run a bit faster with skipping steps (currently maxing at about 6,750mm/min reliably). I plan to upgrade those soon.
It is noisy, and most of the noise is coming from the motors. Any suggestions on how to quiet things up a bit? My preference would be to do what I can by tweaking the settings, if there's something I can do there. I'd prefer to not replace the controller at this point.
Thanks again for all the help here!
*Since I'm new here, I'm limited to one picture and no links (I tried linking to my album). So, here's my one picture…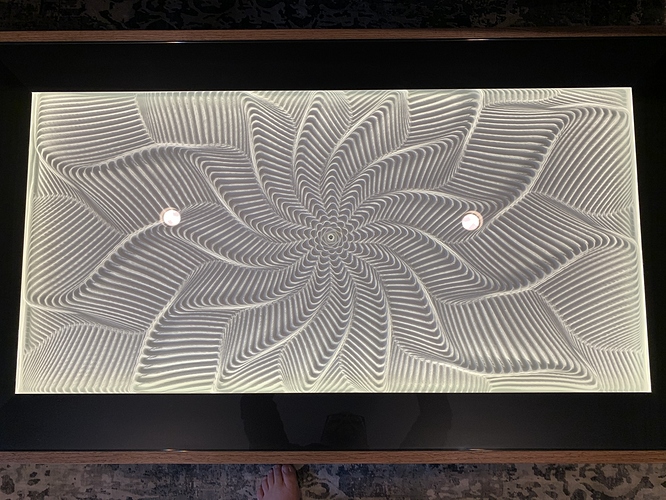 -Kevin