I originally was not going to post these gifts, but doing so gives me an opportunity to mention laser box makers. There are websites on the net that take parameter inputs and produce SVGs for a variety of laser cut boxes. I use this site, and find it has the greatest variety of possible box types. I've made around a dozen laser cut boxes since getting my laser module, from smaller ones like the two below, to larger storage shelving, and they have assembled correctly and easily every single time. And it is easy to enhance or modify the result after the box maker has done the heavy lifting.
This is a very different experience from boxes I've created using the router. Typically designing the box for the router was a slog, and it took a lot of clean up and fiddling with the cut pieces in order to assemble the router cut boxes. In fairness, I never did router cut boxes enough to really dial things in. And it is also possible with the right CAM settings, I could use the results of a box maker with the router.
This first gift was created for someone that wanted a solution to all the long things in the cabinet being in a pile.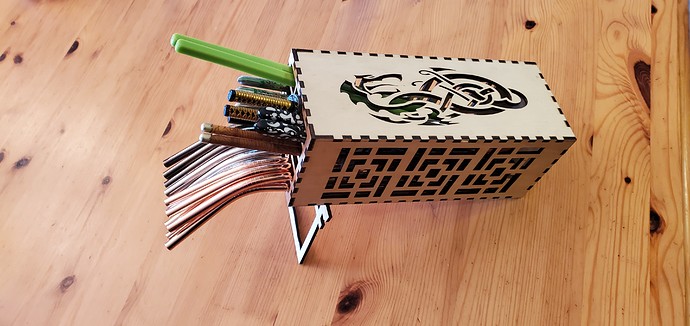 The symbols on this tealight holder come from the Last Airbender. I made it taller and with a high floor so I could power the tealight for months on a single set of AA batteries rather than just a week or two it would have run on a CR2032. The tealight comes on for six out of every twenty-four hours.