Have any of you with a Neje 40W cut thick ply before? If so what parameters seem to work best? Also, are there any "avoid doing this" items for laser flareups?
I had a flare up today running test pattern to see what was a good feed rate and pass count for cutting 1/2" oak ply. The result has me and my garage smelling like bbq! Nothing major was damaged… just the scrap of ply I was testing on, the corner of my balsa cutting rack, and the air assist nozzle.
I was watching closely the whole time, saw a small flame (size of a cigarette lighter or so) under the ply, and a couple of seconds later, just as I was having hesitance over hitting the e-stop, the flame exploded into an intense 4" diameter plume that resembled a hydrogen torch (very orange and no smoke… and sounded like my plumbers torch). I instantly hit e-stop, and as soon as the air assist stopped I was able to blow out the flame with my first breath. I quickly slid out the smoldering bits from under the laser and took them outside to quench a damp rag. Then I ran back inside to blow any smoke that may have remained around my laser module (which is mounted inside a Bosch Colt adapter, so it is pretty stagnant without fan/air assist).
The parameters for the cut were varied as it was a cut test file. There were 3 squares to cut, each with etched feedrates on them… 120mm/min, 90mm/min, then 60mm/min. The first pass from what I could see from the side went about 1/2 to 3/4 of the way through, but no dropped squares (I cut about 1/8 from the edge of material so could see the laser shining through). The feedrate didn't seem to make much a difference from the little I could see (plus it's ply… lots of uncontrolled variables between each square). The flare up did not happen until it started the 90mm/min square on the second pass. From underneath, it did appear like the second pass of 120 didn't fully cut, but 90 was getting a full cut before the flareup.
The results don't appear dramatic, but it was very brief… I can assure you the flame intensity, before I hit e-stop which killed air assist, was very scary!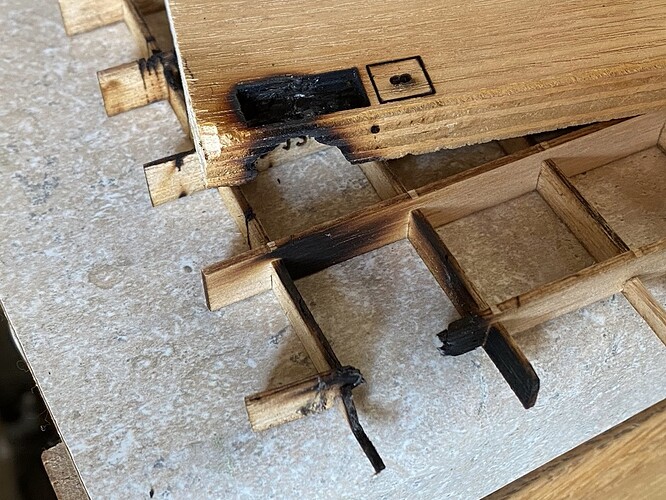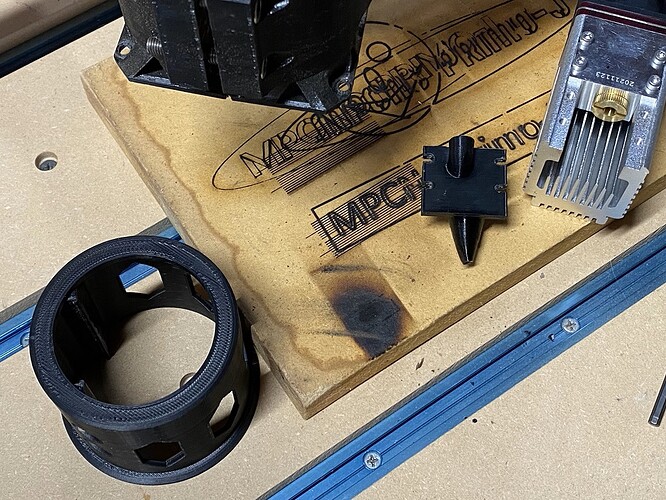 Besides posting the story/photos as a cautionary tale about cutting with lasers, I'm also interested in a reliable way to cut 1/2" ply and similar materials with this laser. I think the powerful air assist may have offered up too much oxygen when cutting through, and combined with the large laser/wood interface when cutting such thick stuff, there was probably just too much glowing wood and air in the crack. I'm using dkj4linux's nozzle at 20 L/min… about 3mm from the wood surface for the deeper cuts. However, the parts of the cut that remained intact sure looked good. I'm suspecting that I just need to keep it above like 120mm/min, or maybe even faster. I did see a small bit of lingering orange in the crack on that second pass of 120, which to I think is a key indicator of flareup danger… if any embers are left then need to extinguish instantly, or the air assist will cause issues.