CNC: Lowrider2 (from Ryan)
Control Board: Rambo 1.4a (from Ryan)
LCD: Reprap Smart Controller LCD (from Ryan)
Firmware: V1CNC_Rambo_DualLR-2.0.9.2
Software: cncjs, v1.9.27
Board: Raspberry Pi 4B, 2GB
My LR2 when homing Z goes down, not up, which is bad since the endstops are installed for Zmax. Using cncjs, and manually instructing Z +5mm, causes the LR2 to go up. Z -5mm causes it to go down. X and Y move and home properly. I believe what I have set up is Ymin and Zmax endstops, with a single X endstop, and the Z touch plate hooked up to Zmin (not currently connected). So what am I missing? Do I need to rebuild the firmware with different configuration.h values?
Endstops are wired NC. M119 shows all endstops open:
> M119
Reporting endstop status
x_min: open
y_min: open
y2_min: open
z_max: open
z2_max: open
z_probe: open
ok

I believe the steppers are wired as per the documentation:
|Motor |Driver |Endstop|
|---|---|---|
|X |X |Xmin|
|Y1 |Y |Ymin|
|Y2 |E0 |Ymax|
|Z1 |Z |Zmax|
|Z2 |E1 |Xmax|

Not sure how much this picture will help, but here is my cardboard :):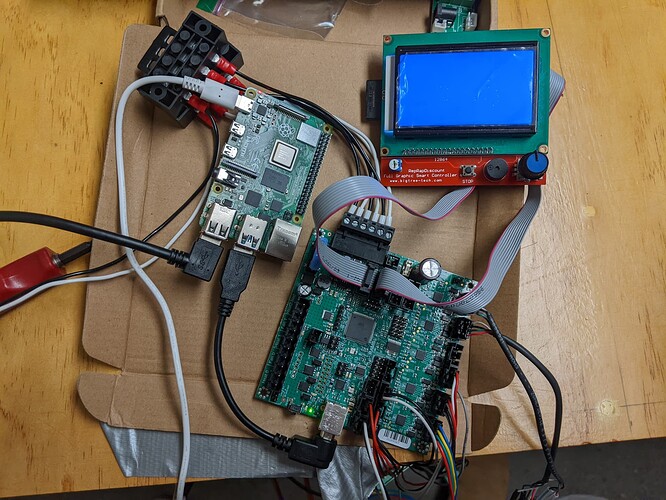 The LCD was working with this setup, but for some reason, it just started showing a blank blue screen. It has a number of always on white pixels. Maybe it went belly up. I bought it from Ryan over 5 years ago, and haven't used it much.