From another topic to avoid digressions…
The base plate, the top plate, and the wheels were made using the lowrider. Because the power distribution takes up so much space, I plan to create another level, maybe out of 1/4-inch or thinner stock, that sits between these two plates and move all the power parts to that. Less likely someone will touch something they shouldn't.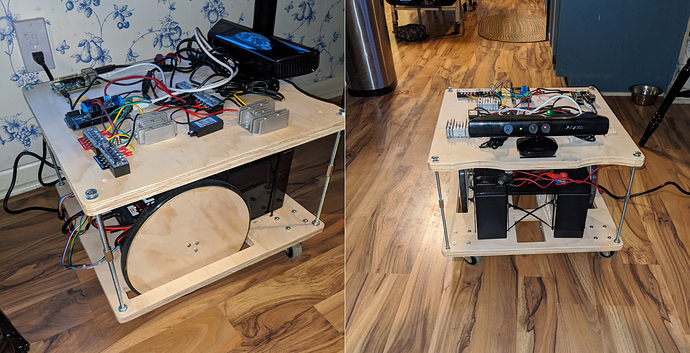 @jeffeb3, It's running ROS kinetic on an RPI4 (found a prebuilt image for it). The RPI connects to the arduino which is running rosserial and using an adafruit motor controller for the two motors. I repurposed motors that run at 20 rpm so I had to make the wheels large. The motors have encoders to produce the odom, but I haven't calibrated it yet. I have ros running on a linux VM that does all the heavy processing for SLAM. The RPI basically just processes the odom messages from the arduino and transmits the laser depth scan from the Kinect to the linux VM.
I based it all off of this:
He used different motor/wheels so I need to modify the arduino code accordingly to get the odom correct… as well all the other stuff for rviz. I'm literally learning all of this as I go so if I sound knowledgeable about it, trust me, I'm not