These are great! I can't wait to figure out the 2.5D carvings.
Me too!
That's beautiful work.
If anyone has a good tutorial(s) on the subject, please post.
What Paul said. Tutorials would be great.
If I get time I will try to make something.
That'd be great! Or even a link or two if you'd found something helpful in the past. I find videos of carving being done but so far nothing too striking. And it's obvious you've gotten well versed in the process.
Havent found anything that worked for me. This was a lot of scrap wood mistakes creating these
Well, I feel better that I wasn't missing something but sounds like I'd better start hoarding scrap wood.
I've made this mistake before. These are 3D carvings (one sided). 2.5D is when you are cutting at different depths in different areas, but all the surfaces are flat.
Esltcam has an old video where they carved a bear mold. I haven't tried it, so I don't know what tricks it leaves out.
I was going to ask how this: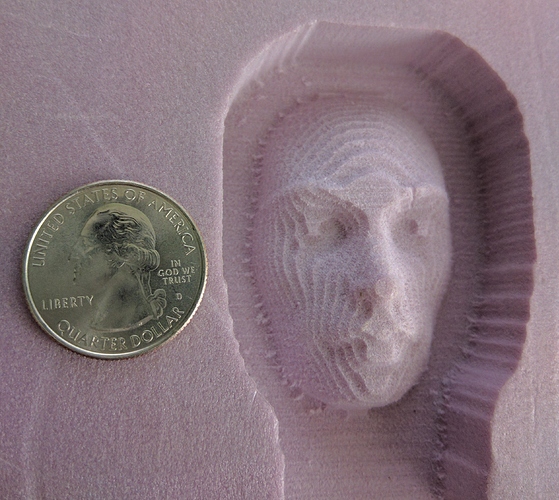 which was ID'ed in the DOCs as one of the first cuts made on a MPCNC was done?
I'll gradually sneak up on it and figure it out.
IIRC, that was when Ryan was still looking for a good CAM program, and it was done on bCNC. I think the face is part of their tutorials. That is a 3D carving.
Thanks for that, it'll save me the goose hunt trying to figure it out in Estlcam. I looked up bCNC, I don't think I'm ready to add more to my alphabet soup just yet. But I have some foam and a brand new variety pack of endmills.
Estlcam is good at carving. bCNC is what Ryan used for that particular face.
Thanks much for the videos! I really like the carving's Kurt has been showing us and would like to work my way up to doing similar things.
Thanks again! I just did a run through the Estlcam video, it's exactly what I was looking for, the starting line! I'll want to run through it a few more times and then find a likely victim .STL file. I completely agree with the advice at the end of the video, get some foam and have at it. At least now I know where to start!
I'll look forward to it! Right now I'm going to look thru Thingiverse for some likely .STLs to hopefully learn a little about 3D carving with before tackling something like Meshmixer.
Now I'm curious. More challenging than using ??? The Estlcam video made using .STLs seem kinda 'normal'.
Fusion360 doesnt detect stl edges. Therefore you can only do adaptive or pocket clearing. You cant, let's say, trim around the edge of something with a contour pass, you have to clear all the material away.
Thanks for posting my Trooper helmet Jeff, this is still one of my favorites.
Paul if you want I have a few stls that are suitable for carving w/ MPCNC that aren't linked in my YT videos, I would be happy to send them to you (most are star wars themed). - I have a baby yoda, Mandalorian, ect.