I am working toward 4-sided (or maybe more) milling.
The goal is a "kinematic" mount where each degree of freedom is constrained, but not over-constrained, so the mount doesn't fight itself if the dimensions are not perfect.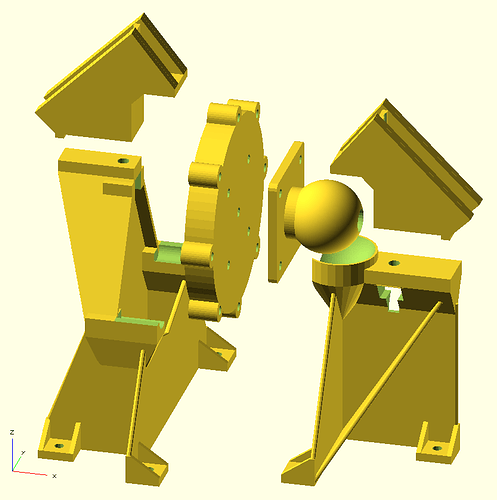 One end is a sphere in a spherical cup, so it constrains x, y, and z position of one end, but doesn't attempt to constrain rotation in any axis.
The other end has N cylinders (in this case 8), two of which rest in cylindrical cups. This constrains the position in Y and Z, but not in X, while also constraining rotation about the X axis.
Together the two mounts hold the workpiece and allow removal and re-mounting with accurate re-positioning with rotation around the X axis.
Technically the mount is not kinematic. The system is over-constrained because the two cylindrical mounts could have an error in the distance between the cylinders, or the orientation of the cylinders might not be collinear with the workpiece, but those errors should be small or have minimal effect.
This setup can support 8 sided milling as it is now, and up to 20 sides is possible by making a new end piece with more cylinders.
I thought I would start with some two sided milling to get my feet wet. The flipping is shown here:
I'm still working through the steps to achieve multi-sided milling in Estlcam, which I'm pretty sure is not the easiest way, but so far it is doable with some hacks to trick Estlcam into giving the right Z height.
The fixture needs some better features for touching off the bit against for homing, and some areas could be a bit thicker, but the stiffness is already pretty decent.