Hi all,
Embarking on this journey now, and started with one of the feet pieces. Now, I spent a lot of time researching print settings and followed them as best I could and actually leaned towards a slower print for a better result, but there seems to be a lot of problems with it. Visually its not that great, but physically it creaks if you squeeze it, and I'm certain if I put enough pressure on it it would splinter. There's really not a good bind between layers.
I'm using an Ender 3. With PLA and a. 0.4mm nozzle.
Print Settings:
Layer height - 0.2mm
top/bottom/outline layers = 4
Infill = 55%
Infill pattern = triangular
external fill = Rectilinear
Temp = bed = 60', nozzle = 200
Speed = 3000 mm/min
I think I included all the critical settings there, but if I've missed something let me know.
Here's how it came out ( ~ 4 hour print) - Edit: I'm only allowed to upload one photo as a new user. So, hopefully this one shows enough detail.
I can upload a whole lot more somewhere else and link, not sure if thats allowed.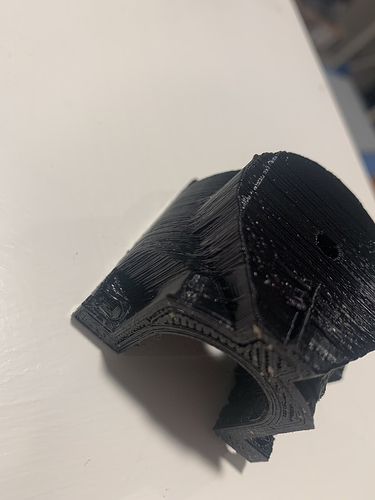 What am I doing wrong? Any guidance would be really appreciated. Happy to pour hours into test prints if you can help me get these going like solid shapes! Very new to 3d printing.
Cheers!