Started printing pieces when the world ended, had to rebuild my printer, finished printing a few weeks ago. Had to print the core 4 times before it completed 100% so I went through a lot of filament. Then I went to buy DOM and they were out of anything with a thinner wall so I got the thinnest wall they had (.250). The good news is there's no perceptible deflection over 60".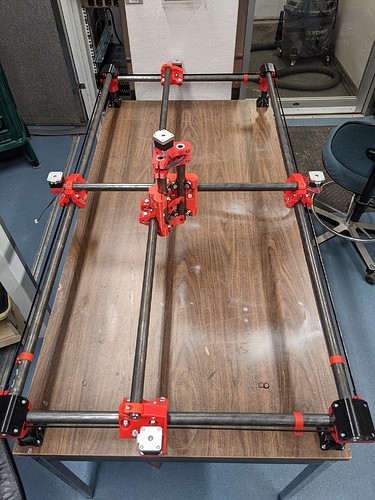 I'll probably change the Z axis tubing to something lighter when I can get it.
I've already stripped out a couple of belt adjusters even though I did pre-run all of my bolts. That's a little frustrating. Possibly due to printing in PETG.
My buddy and I (he's simultaneously building one in Victoria BC) were both wondering why the end-stop switches are on the trucks instead of the corner blocks? I'm half tempted to mount them to the corners so there's fewer moving wires.