I have been lurking for about a month, reading as much of the forums as possible, making notes of the many of the do's and don'ts, deciding on how big of a machine I want to build.
I started my life as an auto mechanic, was an electrician in the Navy and got my computer science degree on active duty - this project uses all of those skills! BTW, please consider me a resource for computer and IT related questions, happy to contribute (I run both Windows and Ubuntu Linux at home) - I am a coder by profession and founded and sold a startup back during the dotcom boom - so if a solution is needed, I am happy to contribute. Unfortunately, I have risen to my level of incompetence and don't get my hands in the works these days, so this is truly fun for me. From the looks of it, you have an awesome community here and I am happy to join and contribute.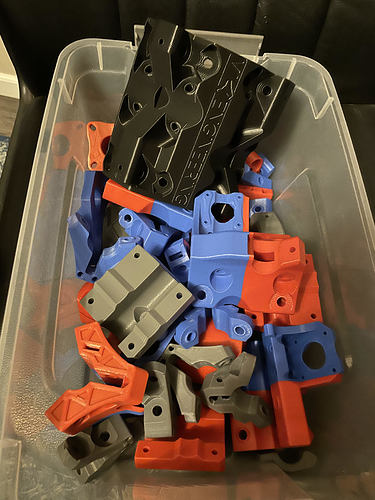 I am starting my table today! All of my parts are printed (please don't laugh at the colors, we had a filament shortage and I learned how to successfully to a filament swap mid print!
). I have all of my supplies in hand.
I have spent the last few weeks prepping my garage ( I had to do some serious purging and re-arranging).
I have a new idea for a drop table starting with AllTed's parametric table, Dui's peg system and Ryan's hand crank idea. I will be sharing my progress (good or bad).
So here's to starting the new adventure!