I'm a mechanical engineer that recently moved to Arizona for the outdoor lifestyle. I've been looking for a project to fulfill my building addiction and so far this has been the perfect project.
A few months ago I was set on ordering a metal Maslow cnc until I stumbled across the LR2. I was drawn to the Maslow by its cutting area and small footprint, but didn't like how slow it was and the chance of it getting stuck and starting a fire.
After creeping through these forums for a month I came up with a design (napkin style) so I can fold the table up when not in use. I previously picked up a rolling dry erase cart at the local re-store ($10) for the Maslow build and decided to re-purpose it for this build.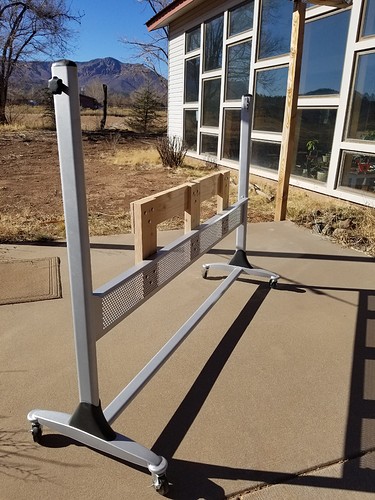 So far I've bolted a wood mount to the cart and I'll attach door hinges to this mount and the bottom support bar of the table (starting the table build this weekend). I also ordered a small Rigid Vac that I'll store in a wood frame that's bolted to the cart.
Can't wait to get calibrating and cutting!