Finally made some progress on my MPCNC!
I'm embarrassed to say that I printed about 90% of the Burly a couple years ago and kept delaying the project. When the Primo released, I again took my time.
While I'm waiting to build my table, I decided to just dive in and start on a couple of sawhorses, aluminum plate (temporary support), and MDF.
I had some issues getting everything square but I had help from some people over on the unofficial prusa3d #cnc Discord channel.
Some questions:
How to check if my MPCNC is square after everything is assembled? Should I have it draw a square at the full length/width of my cutting area and then check the measurements?

Got Repetier-Host working on my Mac by setting 250000 baud rate, but I'm having issues running the gcode that I create in Estlcam. When I run it I get the error 'Unknown command: "M3 S24000"'. If I comment out this line I have another error having to do with M140. Wasn't really sure how to proceed so I just used Ryan's 12mm/s crown test gcode.

Still need to order endstop wiring kit (extension cables) but I've been playing around with that in the firmware. Perhaps I need to so some more reading, but how do I set the endstop stop blocks on my tubes? All I did was offset each stop block 50mm from the corner of each truck. Is that wrong?

Wire darryl: what the heck is it for? Only for setting the pulley position?
Here's my result after running Ryan's crown test with a ball point pen. TWICE!
The lines almost perfectly overlap!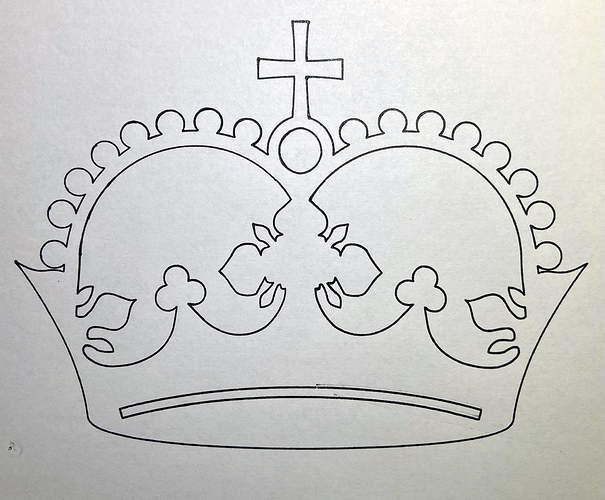 Some more pictures: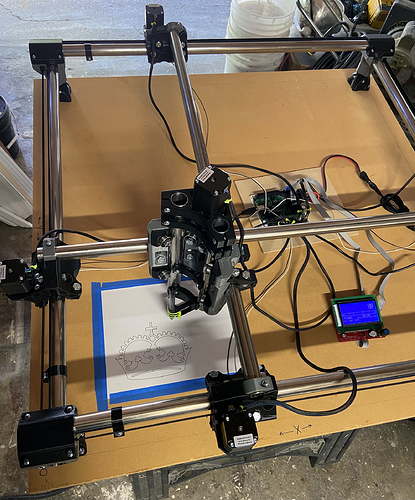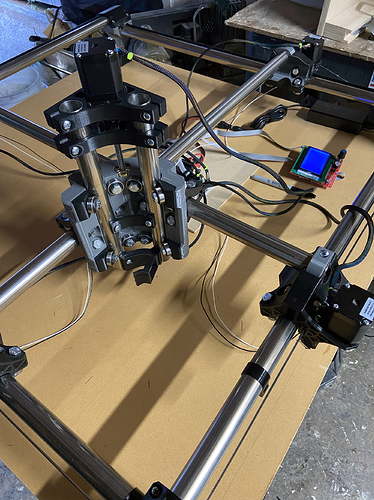 MPCNC/printer specifics for anyone wondering:
24" x 24" x 3.25" workspace
Stainless steel 1" OD x 0.065" wall
Hatchbox PLA - black
TECBEARS PLA - gray
Prusa MK3S+ with 0.6mm nozzle
0.3mm layer height with 3 perimeters, 4 top, 4 bottom
45% rectilinear for most parts and 70%/30/70% variable infill for the core
First layer temp: 215 deg nozzle, 65 deg bed
Other layers: 210 deg nozzle, 65 deg bed