Looking to make some changes in Marlin to "offset" (if that's what I should be doing) correctly and incorporate the a bit setter (Shared it in the FB group).
I want to make sure Z is up as far as possible before homing to avoid destroying end mills, stock and the bit setter. While testing, I have seen the Z go up so far it jumps off the Z rod and then skip. I assume this is because I don't have the height and or offsets set correctly but I was wondering if this could hurt anything. If it's not possible to prevent the rod from coming off, and it won't hurt anything for it to skip, I assume it could be okay to have the Z reattach to the rod with just the weight of the tool. If not, please let me know what I need to do for best case to make sure Z is not crashing.

Here is a photo of the front right corner. the bit setter is placed at X/Y Zero so I would like Z to raise, X/Y to home, Z to probe and then for the starting point to move no less than 30 mm on X/Y (to avoid the bit setter) before starting any cutting.
I am hoping there is a way to set the firmware so I will not lose 30 mm across all of X and Y, but just the small square of the front/right corner (where the bit setter is.).

Should I be enabling a probe setting in Marlin to enable the bit setter? If so, I suspect there might be code there that will have consideration for what I would like to do regarding not starting the tool in this 30x30 space.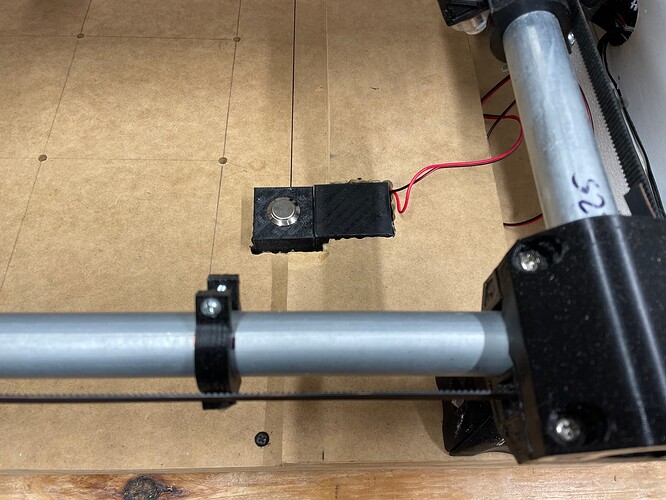 Thank you all again for your help.