The Ortur 10w laser is pretty new, so I don't know if anyone here will know the answer, but I'm asking around a few places, hoping someone somewhere will know.
The laser comes with an "adapter board", which takes a 12/24v connection, ground, and PWM signals in multiple places - it says on the board that only one input is allowed. There are also multiple outputs, but the instructions say that the 10w laser connects to the 6 pin plug marked Output B. The pins on that output show two pins with 24v, two with ground, and a PWM pin. Other than the ins and outs, there's a fuse, a couple of schottky diodes, some resistors and LEDs. Here's what it looks like: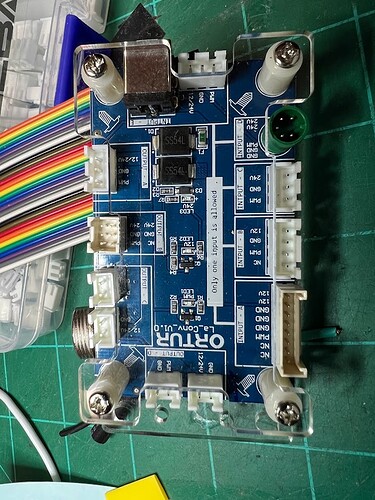 Because this laser is designed to bolt on to Ortur and other laser machines - it comes with a mounting plate with screw holes marked for different machines like D1, A5 Pro, and X7 Pro - I believe that the only thing this adapter board does is help to make the laser basically plug and play for these other machines. I've watched some install videos, and they say "locate plug X, disconnect it, plug it into the adapter board, and then plug the new laser cable into the adapter board." The multiple outputs probably let them use it with other lasers they make.
So my question is this - I already have 24v, ground, and the PWM signal running to a connector on my Z axis, so I shouldn't need the adapter, right? I've created my own adapter that connects 24v to the two pins that need it, ground to the two pins that need it, and the PWM signal . I haven't tried hooking it up and turning it on yet though - I wanted to see if anyone knows of any reason why I can't do what I'm describing? Does the adapter board actually do more than what I think it does?
Any input would be appreciated.