Haven't done a great deal since I built my MPCNC earlier in the year, finally creating chips (and dust) in April. I've been concentrating on getting my new workshop (it's a shed, really) organized. I also took up a new woodworking hobby last week when I bought my son's father-in-law's old wood lathe after he upgraded to a newer model. So that added to my organizing requirements.
As part of the organizing, I repurposed some drawers that were salvaged from our recent kitchen refurbishment and mounted them under the MPCNC. Trouble was, the handles stuck out far enough for me to catch my legs on them as I moved past them. My shed isn't that big (9' x 7') so there isn't a lot of room for manoeuvring.
So, I decided to do something about it and sought inspiration from t'Interweb and came up with a neat design to recess the handles. The handles were from the kitchen too, but had been replaced by the ones in the photograph a few years back.
I cut the recesses on my MPCNC, and I am well pleased with the end result.
Before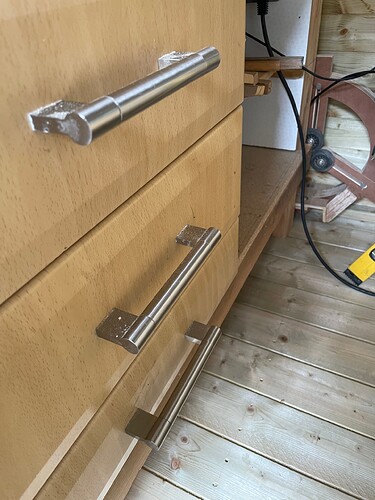 After