Hey,
first I want to introduce myself because this is the first topic I create in this Forum.
I am DJ living in the North of Germany and I am using the MPCNC since 7 - 8 month. I have modified a lot of things because I want to use the mpcnc for aluminium and carbon. I realized a couple of parts in Alu - even with AW 7075 - aircraft aloy). Not easy but possible.
Therefore I have built the MPCNC on a Alu-tFrame 30x30 with a Alu-bed etc. etc. A couple of parts for it I have designed and also placed on Thingiverse.
I am now in the upgrade process of the MPCNC to Primo because I was even thinking about designing an own CNC with stronger Z-part of the MPCNC. Now that I have seen the Primo I will try it.
Currently I am printing all the necessary parts but I will directly modify the Primo in using my Aluminium Frames.
For the prints I used all my remain material of the last month. Printer is a PRUSA i3 MK3S.
I have used PETG (blue metallic), PLA (blue, black and silver), ASA (orange) and for the core I will use CPE (needs to be printed next week).
In the foto you can also see my legs for the TFrame 30x30, that I have modified (here in PETG, ASA and PLA)
My slogan: COLOUR YOUR WORLD
So that was my introduction, hope that's OK
Now to my question:
I printed the Trucks (here in ASA-orange) and tried to install the idler. In the built description it is mentioned to use T20 W10 B5 idler but these parts can't be installed.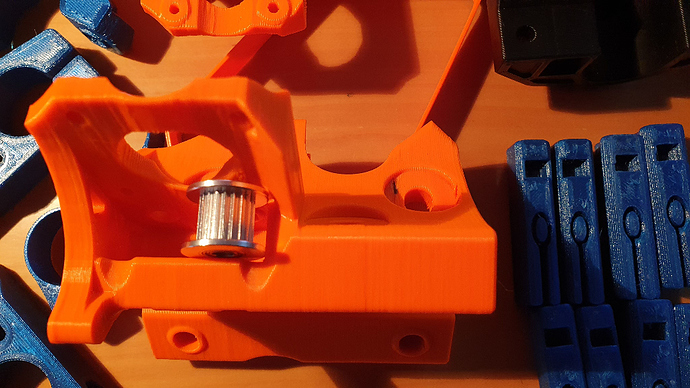 They don't fit because the diameter of the standard T20W10 idler is 18mm and in that Truck only diameters of 13 or 14 mm fit.
Currently I am trying to sand the edge (see picture below) but that's really a … work.
How did you realize that? What parts are you using?
Any ideas are really appreciated
Best Regards from Germany
Ciao
DJ