Hello,
I am building a mpcnc with the autohome feature. However, when I try to autohome, the gantry moves up in the z axis (as expected) but then moves away from 0,0 in both the x and y direction for a few centimeters, then crashes the z axis into the spoilboard. I have attached images of my wiring.
I am running a Ramps 1.4 clone and endstops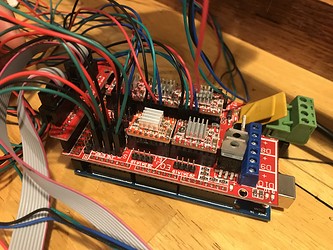 In terms of software, I am using the suggested Marlin for Ramps 1.4 dual endstops
Any help is greatly appreciated.