I need to tap into the V1 Forum Brain-trust…
Here is the scenario:
I need to contain an 8mm diameter rod in a linear direction while allowing it to rotate freely.
The rotation will be slow and the lateral forces on the rod will be fairly minimal, but it must be able to withstand a constant linear force of, say 10 lbs.
I found these on Amazon: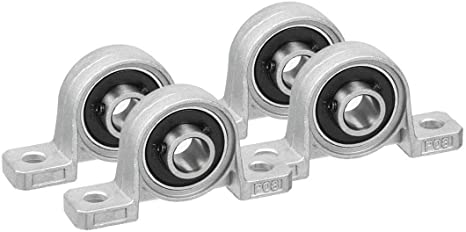 https://www.amazon.com/Sydien-Pillow-Block-Flange-Bearing/dp/B07C5MTB5X/ref=pd_di_sccai_cn_sccl_3/133-2272937-1712047?pd_rd_w=pqM1s&pf_rd_p=1ed8df3a-0df8-4988-98b9-252e4c99c568&pf_rd_r=FRKKXYMZGKCDP7JH1EY6&pd_rd_r=43258135-8f40-4861-b06b-64a5551e6477&pd_rd_wg=nxOMu&pd_rd_i=B07C5MTB5X&th=1
These look like they might fit the bill, but I can't find any info on how much linear resistance they might have. The description says the bearing can be easily replaced, which tells me it is most likely just a pressure fit. What I'm hoping is that the bearing slides in one side, but cannot slide out the other. This would be fine for my purpose, because the linear force will only be coming from one direction.It isn't easily apparent that this is the case from looking at the pictures. The force would be distributed over at least 2 of these bearings (possibly 4 since that's the way they're packaged).
So, anyone have any experience with these? Would these work? If not, what would?
I would appreciate any input.
Edit: Google search didn't help me much, but YouTube did. It appears these are not a press-fit. The inside of the mount and the outside of the bearing are somewhat doughnut-shaped, and the bearing has to be rotated 90 degrees to the mount in order to remove it. So, the question is not so much if the bearing would be forced out of the mount, but how much linear resistance does the bearing itself provide.