Hi!
I am at the beginning of my MPCNC jouney.
I will start my build with a Ramps 1.4 board with DRV8825 drivers. Probably will add a 12864 LCD screen. Would like to have end stops on both sides.
I am looking 4 different precompiled builds, but can not find detailed description for those. Please give me some directions.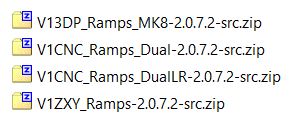 Thank You!