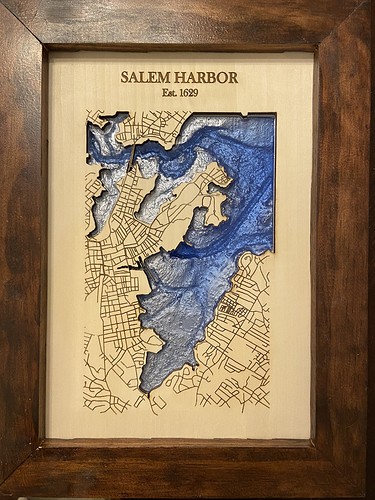 At the start of COVID, my son and I went in together on a 3D printer. He made headgear for the local hospital staff. With those and N95s none of the fever and flu clinic caught it.
The 3D printer, led to second large 3D printer (C10S pro v2), then a K40 laser. I learned graphic design, vector graphics, 3D modeling, then I went down the map making rabbit hole and learned GIS software, lidar and digital elevation models (DEMS), then frame making techniques, how to stain, how to sand and paint and get good results, not just first timer results.
Now building an MPCNC.
This design is lasered and kept natural without stain or black infill, but you can do this design with a small bit. The roads are 0.4mm.
I would recommend milling the roads and the text, then spray with a quality laquer I have had good results with DEFT, I use semi-gloss which also doubles as the finish coat for the frame. then you sloppy paint the the engraving with cheap black acrylic (the good stuff penetrates grain too well). Then when dry, sand down so just the text/lines are black. the best stain for these is minwax early american, and it is what most folks who sell on etsy appear to use.
Here are some I have that are stained that way:

How to make it? Well therein lies the complicated part.
Workflow
learn basics of QGIS for beginners. it is free geographic info software. i gather it is much easier to learn than cam, but you are going to need to be the type who can spend alot of time in pursuit of a long term skill if you want this kind of result. You can create simple things first and get better over time.

learning basics for inkspace or illustrator
processing of data and creation of SVG file:
-download bathymetry DEM from NOAA (this luckily only needed one file)
-make sure to set CRS to whatever the DEM source info is
-from National map, download the states transportation dataset, create layer for roads
-create layer, draw rectangle for the area of the design
Clip roads and DEM to the area
-display only the DEMin pseudo color (with just two colors) as follows: <= 0 ft elev is black, >0 ft elev is white.
Export this as image.
Import into Inkscape graphic design file, then 'trace bit map' it to create a vector for the water features that will cut out the openings in the wood.
-qGIS display only the roads, change to 0.4mm black no opacity and exports as PDF low quality
-import the roads PDF into Inkscape. Delete the square that auto generates (and will be white infilled) by editing nodes and deleting the four corner nodes.
-Scale and place roads using shoreline as reference (easier than you'd think)
-for lasered wood: reset roads to 0.4mm black. Raster the roads do not vector burn them. I do about 4 mA at 150 mm/sec on a laser. I haven't learned CAM yet but I assume you'd need a small square ended bit to carve plywood like this?
-for model: start by flattening the elevations that are above 0 ft elev, which is the mean low water datum, aka low tide on the coast. To do this, use raster calculator, the qgis help is good on this. Set >0 to the size of the lip you want at the shoreline. I use 0.05ft because normally the depth is exaggerated 10X or more when printing the model. Once the land elev are all set that, use DEMto3D plugin. This one has its quirks, you may need an hour to figure it all out and get the model to come out right. Don't expect instant mastery. Select same area. Export to STL. Open in blender and make 4 thin rectangles the length of the models sides and same height. Join them to the model. This creates a bathtub for the epoxy.
-3D print, coat with ceramcoat product to infill micro holes, paint silver metallic. Use transparent epoxy specific dye and infill with epoxy (I used amazing cast from hobby lobby). 8 drops of blue for maybe 3 oz of epoxy.
-epoxy model to finished laser image
-custom frame that has a slot groove to hold the model/map. Frame is Pre stained and assembled around the finished model/map. Then putty nail holes and resand and stain those areas. clear coat frame with semi-gloss. use a sheet of paper to cover the epoxy, or it will lose its gloss, and you will have sad face. thats easy… right?