Hi all,
I'm near the end of a LR build - and have run into a head scratch problem - hoping someone may be able to help.
Running BIGTREETECH SKR-PRO-V1.2
First - Cannot get the X-min end stop to work at all!
I have populated the board with 5x2209 drivers (with diag pin removed)
Flashed with what I believe is the latest dual endstop firmware .
I have connected all servos and all are working as a test
ALL end stops and Z probe work as they should - EXCEPT for X-min.
Regardless this seems to only show OPEN regardless of what I do.
I've stripped back to just the bare board - with jumpers / drivers in place
No screen and interfaced with my Mac to illustrate.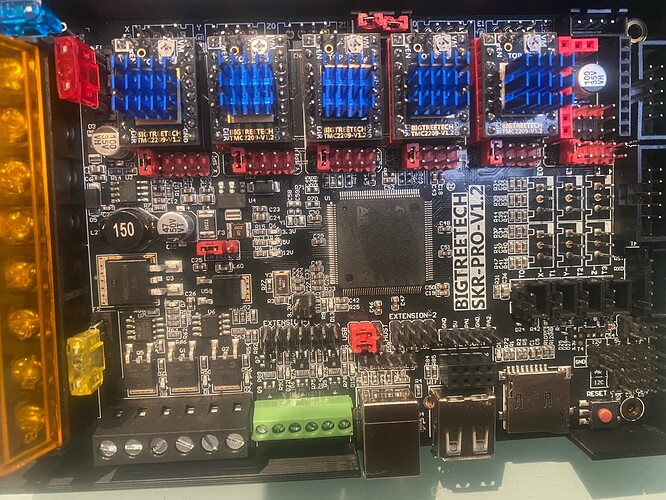 M115 produces the following:
FIRMWARE_NAME:Marlin 513DL 2.0.9.2 (Oct 24 2021 13:38:26) SOURCE_CODE_URL:github.com/MarlinFirmware/Marlin PROTOCOL_VERSION:1.0 MACHINE_TYPE:V1CNC 513DL EXTRUDER_COUNT:0
UUID:cede2a2f-41a2-4748-9b12-c55c62f367ff
Cap:SERIAL_XON_XOFF:0
Cap:BINARY_FILE_TRANSFER:0
Cap:EEPROM:1
Cap:VOLUMETRIC:0
Cap:AUTOREPORT_POS:0
Cap:AUTOREPORT_TEMP:0
Cap:PROGRESS:0
Cap:PRINT_JOB:1
Cap:AUTOLEVEL:0
Cap:RUNOUT:0
Cap:Z_PROBE:1
Cap:LEVELING_DATA:0
Cap:BUILD_PERCENT:0
Cap:SOFTWARE_POWER:0
Cap:TOGGLE_LIGHTS:0
Cap:CASE_LIGHT_BRIGHTNESS:0
Cap:EMERGENCY_PARSER:0
Cap:HOST_ACTION_COMMANDS:0
Cap:PROMPT_SUPPORT:0
Cap:SDCARD:1
Cap:REPEAT:0
Cap:SD_WRITE:1
Cap:AUTOREPORT_SD_STATUS:0
Cap:LONG_FILENAME:0
Cap:THERMAL_PROTECTION:1
Cap:MOTION_MODES:1
Cap:ARCS:1
Cap:BABYSTEPPING:0
Cap:CHAMBER_TEMPERATURE:0
Cap:COOLER_TEMPERATURE:0
Cap:MEATPACK:0
ok
As per the photo above.
M119 produces the following
Reporting endstop status
x_min: open
y_min: TRIGGERED
y2_min: TRIGGERED
z_max: TRIGGERED
z2_max: TRIGGERED
z_probe: open
Just for illustration - I have installed jumpers on each of the stop / probe inputs as follows.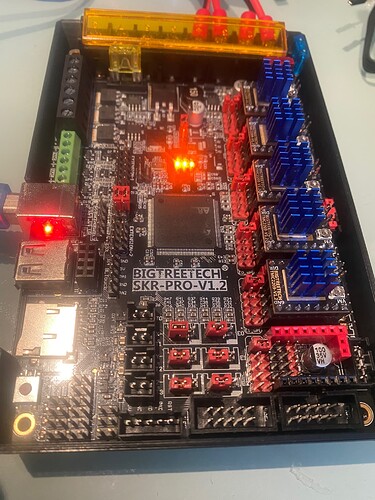 This returns…
Reporting endstop status
x_min: open
y_min: open
y2_min: open
z_max: open
z2_max: open
z_probe: TRIGGERED
ok
After reading every post i could on similar issues -
I removed the plastic shrouds around the pins to ensure there wasn't an obvious bent pin/short.
Reflashed board firmware
Tried the same experiment with all (5) 2209s removed
I've run out of ideas? HELP??