So, I need a case and I can't find one for the Lowrider 2 and SKR Pro. I have found some 3d printer cases that might work… but… eh.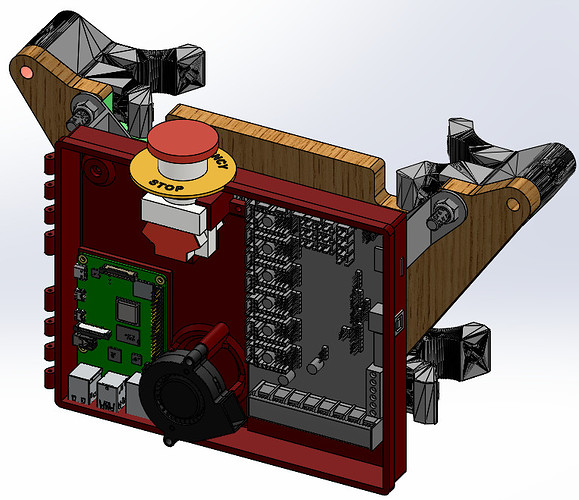 I designed a super mini Peli-ish case.
Features needed:
to hold a SKR Pro board (Does anyone have a better model of this?)
many of these boxes have the turbine fan to blow over the drivers.
Wanted an eStop button in there. That sucker is huge!!! what a waste of room but if i can wire it, worth it!
I had a ton of room in this box so I added a rpi 4 area. I also have more room in the upper left side. What should I put up there that will be a good fit for CNC noobs that would be the best fit for the LR2 slightly modded build?
I would like to put some type of wire management in the middle.
most important! needs to be able to print on a Prusa i3 mk3 sized printer. because of Limited room.



I was going to put one of those BTT UPS boards for 12v. BUT it takes an endstop slot and I don't have any more of those. I thought it would be awesome to have the LR2 remember where it left off after a power outage. but no.



I also didn't want to poke a million holes in my Y plate. I used the existing 5/16" bolts. I didn't buy my bolts from V1 and it was easier to find the 3" bolts vs 2.75". Which means i have more room to bolt feet too. I did make the feet 2mm thick so it might work on the regular bolt??? However, this case was designed so someone that does want to pop holes can do it without using the feet.



I don't know what to do with the TFT screen??? My thought is to have the screen on a cord. Trying to see the screen way down there is a problem. Trying to move with the screen is a problem. what are your thoughts?
This is just a concept work right now. Suggestions for the most basic things are the most welcome! maybe a few upgrade items?? I am thinking about anyone needing a case for a SKR Pro that is building for the first time. But it has expansions for typical or most useful things in the future.