I definitely want to do one, i'm gonna try it with fishing nylons.
Thanks for your work, buddy.
Post your tensegrity soon!
Thank you

That's very cool!
How stable is it? Would you trust it with a mug of coffee?
That is a really big mug of water!
I really want one!
Let's cut it!
Took me a while but I'm glad I stuck with it. That's one of the coolest things I've seen in a while. Thanks for sharing. (Where on earth did you stumble upon that concept??)
There is a whole lot of awesome in those pictures!
My plan was to use your drawings to cut it out in plywood. But with this freaking lock-down, I'm stuck indoors with the kids. The mpcnc is in the shed, so right now the printer is more convenient. So, instead of your nice version, I ended up with a plastic one. It didn't handle a full mug though. I dream of making a big wooden version, that my wife can put an outdoor planter on!!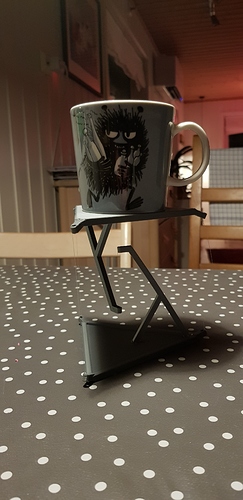 Are you saying that you're not allowed to go out to your shed?
I'm guessing its more of a "if you think leaving a CNC unattended is dangerous, try it with my kids" situation.
I'm allowed to visit the shed, both by the local government (my wife), and the national government. The local government is pleased to see that I usually become happy after spending time in the shed. The problem nowadays is that we have to take care of our kids during daytime, because of closed down kindergartens, while trying to work efficiently from home. Thus - leaving a 3d printer running in the background is less time consuming than hunkering down in the shed.
I have realized just how much I appreciate child care. It has been quite an adjustment. The kids aren't too thrilled with the change either. It is one thing to spend a day alone with the kids and be able to take them on a field trip. Spending the whole day inside, and the back yard is 5x harder.
Our governor Charley Baker just announced that school will be closed to at least May 4th.
It will be challenging have the kids home for all that time… schools have yet to implement online learning.
Only so much we can do to keep the kids entertained without let then be on there Ipads all day.