I've thrown away a lot of PLA from parts I've replaced or upgraded over the last 6 months while I have tried to figure out what modifications work best. I'm posting here as a new thread with the intent to help new builders save time, money, and heartache determining what they may want or need in a new machine. I'm hoping other experienced builders can provide their input so we can have a comprehensive list of upgrades.
This will remain a work in progress with the best ideas being updated in the original post.
The first upgrade I included was Ryan's dual end-stop roller plates. The roller plates work great for mounting the switches however the belt mounted stop blocks had far too much play for my liking so I went with this bar mounted end stop block.
Belt tensioners are essential to reliable operations. My first cut was holes in a sacrifice board that I could use to mount anchors into. The stock zip ties that I thought were tight enough would flex like rubber bands so I found some these belt tensioners. They attach to the belt notch at the corners and have just a little tension adjustment.
Caps for the conduit are also highly recommended to protect your wires and fingers from sharp edges. There are multiple options available with a quick search.

I designed this RJ-45 keystone jack mount so I could use CAT5 or CAT6 patch cables in my cable management. I also include a modification to Ryan's Gnarly case cover that has keystone jacks.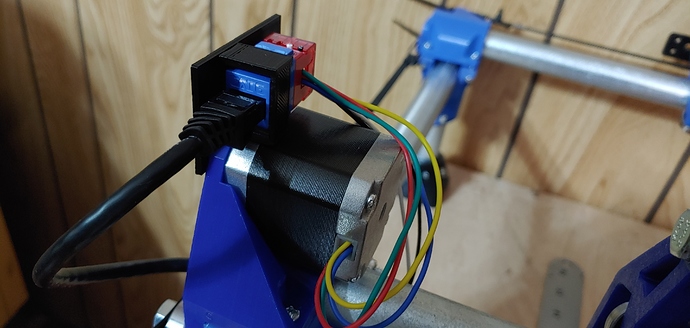 These jack-screw style adjustable legs are my latest upgrade. I'm still printing the last few parts so I don't have much feedback to offer but I expect them to be much easier to adjust making machine leveling much easier. Trudge was good enough to modify the parts to better accommodate the

#6

hardware that Ryan provides with his kits and just included longer legs of different sizes.