For those still following along.
I need to reprint some of the homing/limit switch mounts and replace a few switches that are broken. I'm not sure how you get a machine to bust limit switches, but ok…
Maybe I'll weld some mounts out of steel.
But beyond that, the machine is working well. The two lead screws used on the Y axis weren't in line with the axis after the machine was moved, but by slowly jogging the machine all the way to the other end of the axis, it self-aligned. The one end of the lead screws are slightly floating to allow for this.
My friend sent me a picture of the CNC machine he bought to replace this one. Let's just say it's not Hobby Grade: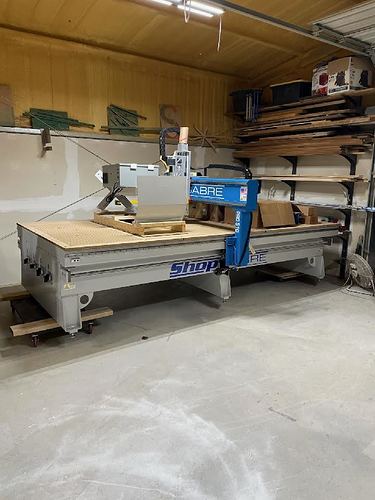 He plans on enclosing it in a room with windows and a big door on one side for loading/unloading it.
I can't wait to see the stuff he produces with it.
I have been wanting to play with building a control box for a larger CNC, so I ordered a LattePanda to install mach4 on. I'll slowly start collecting parts to build out the control box. I want to go with individual stepper drivers.