I'm looking into kiri:moto for some through cut CAM work. In general, it is awesome
. I'm not sure I have quite enough capability to configure it the way I need to for the MPCNC/Low Rider.
I noticed that the first plunge (in the gcode I generated) doesn't have the plunge rate set right:
; camFastFeed = 2001
; finishingSpeed = 802
; finishingPlunge = 253

G21 ; set units to MM (required)
G90 ; absolute position mode (required)
; starting finishing
M6 T2 ; change tool to 'end 1/8'

G0 Z20.05 F2001           ; Too fast for Z
G0 X489.9449 Y52.0166     ; Z feedrates would be too slow
G1 Z16.129 F802           ; Uh oh! Wrong feedrate here, this should be the plunge.
G1 X489.9849 Y51.6522     ; No feedrate set here.
G1 X490.0406 Y51.2896

right.gcode (66.8 KB)
The G0 feedrate isn't broken down into Z and XY. The firmware should limit this, but a lot of users don't have this well configured, and we've had trouble in the past (a long time ago) with Marlin actually ignoring the max Z feedrate. The MPCNC (and many CNCs) have different speed capabilities in Z vs. XY. This is probably a minor issue.

If there is only one tool used, do we need the initial tool change (M6)? It would be nice to have a well defined tool change script as the default, and Marlin has some good gcode features we could use, like M117, G28X, etc. But most people (at least those who are starting) aren't going to use two tools in one job. In those cases, a tool change script can be a hassle (they may not have an LCD attached, for example).

I am working on the side of a piece of furniture. It has to be cut out, and it needs some joinery cut out as pockets. I love that it just accepts the .STL from my CAD, instead of using a .DXF. But I can't seem to find the right settings to just cut out the inside hole (which is all the way through the .STL), but do create pockets on the holes that don't go all the way through.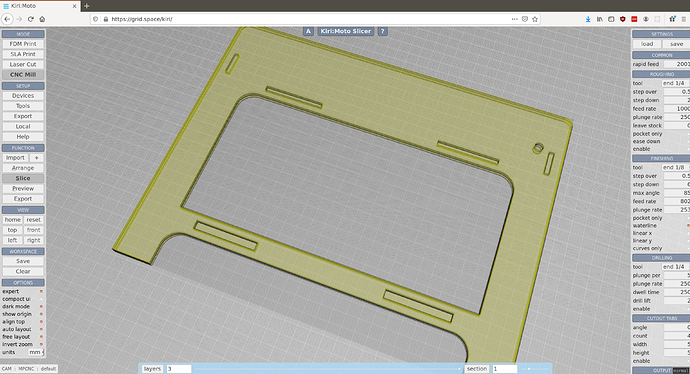 STL right.zip (20.3 KB)
I don't want to sound like it's all wrong. So much of this is excellent, and I really want it to work. As a Linux user, it seems like a great component in my workflow. And as a fan of V1, I would love for it to be documented as a good way to get started with CAM.
@scrounge79, I know you've been using this too. If you have any tips, please share.